Unlock your international Potential
Use our collective stands for your worldwide appearance.
Overview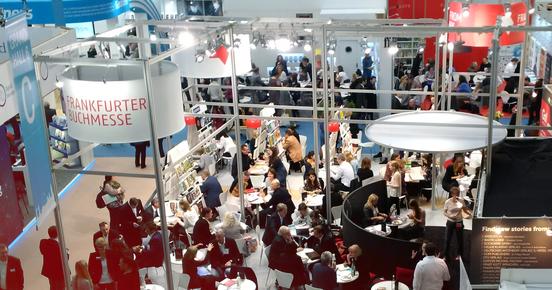 Juergen Boos, Director of Frankfurter Buchmesse, about the current situation
Based on the information that is currently available, we expect Frankfurter Buchmesse to take place from 14 to 18 October 2020. What Frankfurt's 72nd book fair will look like exactly, we cannot yet say. What is already clear, however, is that it will be a very special event. We are incorporating the measures being discussed at the national and state levels into our planning on an ongoing basis, since our highest priority is the health of our exhibitors, trade visitors and the public. We will communicate any concrete developments as soon as they become known. It will probably be possible to provide a clearer picture as of mid-June.
Our exhibitors can get in touch with our Key Account Management and Sales teams regarding any questions.
The Frankfurter Buchmesse team is now reorganising its presences at the following international fairs, which have been postponed by the fair organisers:
Germany's presence as Guest of Honour at the book fair in Thessaloniki (new dates: 29 October - 1 November 2020)

Feria Internacional del Libro de Buenos Aires (original dates: 28 April-18 May 2020; new dates: tba)

Tehran International Book Fair (original dates: 14-24 April 2020; new dates: tba)

Turin International Book Fair (original dates: 14-18 May 2020; new dates: tba)

Festa Literária Internacional de Paraty 

(original dates: 29 July - 2 August 2020; new dates: tba)
The following fairs at which Frankfurter Buchmesse would have been present with German collective stands have been cancelled by the fair organisers:
London Book Fair (10-12 March 2020)

SXSW Conference & Festivals in Austin, Texas (13-22 March 2020)

Livre Paris (20-23 March 2020)

Abu Dhabi International Book Fair (15-21 April 2020)

Bologna Children's Book Fair (4-7 May 2020)

Taipei International Book Exhibition (7-12 May 2020)

Cannes International Film Festival (12-23 May 2020)

Warsaw Book Fair (21-24 May 2020)

Seoul International Book Fair (24-28 June 2020)

The International Book Arsenal Festival in Kyiv (20-25 August 2020)

Frankfurter Buchmesse is in ongoing contact with all international organisers and with the German Federal Foreign Office and is closely monitoring developments as they occur.

Your contact at Frankfurter Buchmesse would be glad to provide you with news and information relating to your travel plans for international fairs and publishing industry events.
You will find the latest information on our news page:
Let us raise your international profile
Your business can easily benefit from our global activities and networking events. As an international industry platform, Franfurter Buchmesse can support you in any number of activities abroad. For example our German collective stands and event at international book fairs around the work give you uncomplicated access and a heightened profile at trade fair, no matter where in the world they are being held.
Our offer - your advantages
With us you can participate at 20 German collective stands all over the globe.
You benefit from our low prices thanks to public funding
We take care of the safe transport of your titles and the assembling and dismantling of your exhibition stand.

A strong presence at trade fairs is guaranteed thanks to well-placed, well-designed booths
We ensure that your presence is communicated to the respective local industry participants before each appearance.
You receive all relevant information, travel flexibly to and from the fair and are looked after before and during the fair.
German collective stands around the globe.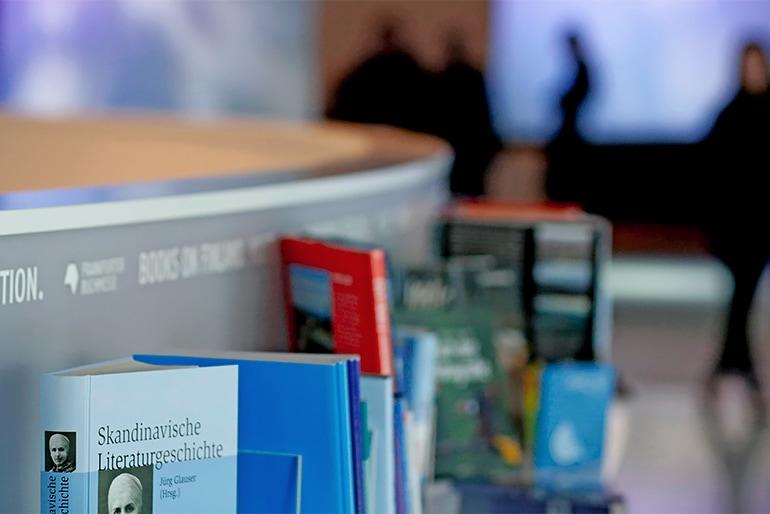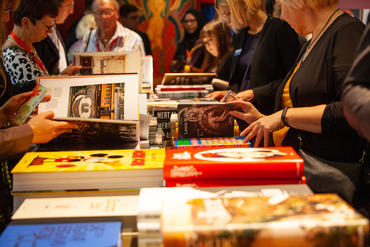 If you want to expand into foreign markets, the easiest way to do so is with our expertise, our network – and our collective stands.