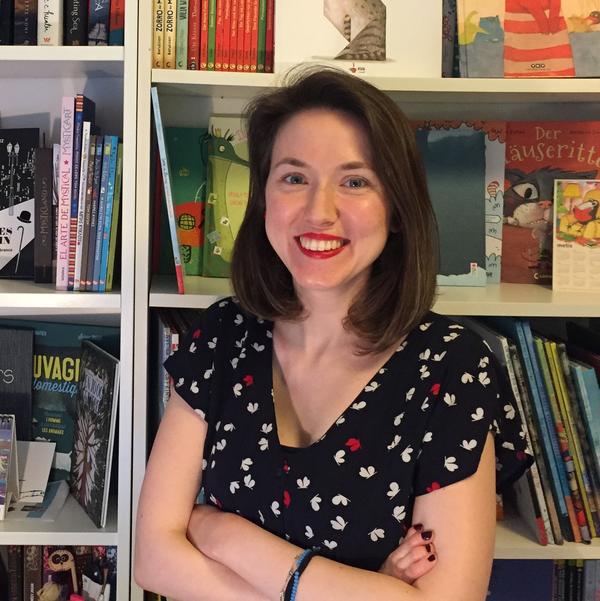 Digitization, pandemics, refugees - against this backdrop, what is the current state of the Turkish children's book market? Here's an interview with Burcu Ünsal Çeküç, literary agent at the Kalem Agency in Istanbul.
How has your daily work changed during the pandemic as a literary agent for children's books?
I have started representing children's book authors and illustrators from Turkey in the beginning of 2020, namely just before the pandemic, so I found myself in the middle of these surreal times. A big part of a literary agent's work involves sending emails both to connect with new publishers and to keep in touch with old friends, which has become even more important during pandemic as emails are now the only means to communicate with publishers. Meetings are replaced with virtual meetings. An advantage of online meetings is that now we can meet with publishers that we normally don't have the chance to see in book fairs. It is the same case with publishers from across the oceans that don't generally have the time or budget to attend book fairs in Europe.
As online communication has become more prevalent, the means of promoting our titles have also become more important. Now we don't have the chance to enthusiastically talk about a title face to face during a cocktail. That's why the newsletters and rights catalogues are now more crucial and needs to be interesting to capture a publishers' attention.
What is special about the children's book market in Turkey?
I started working as an editor of children's books in 2011, and I can confidently say that the children's book market in Turkey has changed a lot in the last ten years. Ten years ago, parents and teachers were biased against picture books, which was a completely new genre for them as most of them didn't grow up reading picture books. Ten years ago, picture books were not in demand of publishers either. But today the rights of a famous picture book artist are sold even before it is published.
According to Turkish Publishers Association, in 2020 children's books made up 10.33% of publishing industry with a total sum of 44.763.278 copies of books that are published. So every year more and more authors are introduced to children and it becomes harder for teachers and parents to keep up with new titles. Social media accounts, namely bookstagrammers, play an important role for parents to find out new picture books. Sales to schools are also one of the important aspects of the children's book market in Turkey. As the choices of teachers matters a lot, since the beginning of the pandemic, publishers prefer nonfiction titles or fiction titles that is introducing a nonfiction topic with a story over fiction titles.
In the children's and young adults' book genre, digital formats such as audio content, apps or games have been in particularly high demand for many years. Is this also the case in the Turkish market? And if not, what is the reason?
The pandemic has accelerated digital markets in Turkey. Publishers now has seen the importance of the digital market as more and more people demand e-books and audiobooks. Therefore, since last year publishers who don't usually promote their books in digital channels are now demanding e-book and audiobook rights of both new titles as well as their backlists.
Storytel was launched in Turkey in May 2018 and started a noteworthy advertising campaign. So when the lockdown began, readers who were familiar with this application started listening to audiobooks more often. In the Turkish market e-books are generally read by children over 12, whereas audiobooks are preferred more by children over 8. Young adult titles are popular both as e-books and audiobooks since adult readers also make up the audience of this genre. Apps and games of children's books are not very popular but I believe we will see more and more new companies developing apps for picture books in the near future.
In the international children's and young adult book market, topics such as cultural sensitivity, diversity and inclusion are playing an increasingly important role in the stories. As a literary agent for Kalem, how do you perceive this development?
As the population of Syrian refugees have increased in Turkey, some publishers have started to look for children's books about diversity and inclusion. In order to free ourselves of our prejudices, children's books play an important role all over the world. Even if the title is not about diversity, most publishers are looking to see diverse characters in the illustrations. Our agency has now started to represent a title named "Don't Stare at Me!" which is a picture book about embracing differences. The author Gökçe Gökçeer and the illustrator Pelin Turgut tells us a story about all children who had their shares of being labeled as "different" and reminds us that every one of us is unique and special no matter how different one looks or acts. The rights of this title were sold into four languages in the first week of our representation, so I believe publishers from all around the world are still looking for titles in these themes.
A little look into the near future: How will the children's book market change in the next few years against the backdrop of digitization?
As an old-fashioned reader missing the smell of paper every time I open an e-book, even I got used to listening to audiobooks in the last two years. I believe the pandemic will mark an important point in the digitization of books and the trend of reading e-books and listening to audiobooks will steadily increase for children's books. Digitization will also make YA and children's books more accessible to adults, since a good children's book could be enjoyed by all ages. As Roald Dahl says, "The greatest secrets are always hidden in the most unlikely places. Those who don't believe in magic will never find it."
But I believe that apps and games are not likely to decrease the sales of picture books. Picture books are an introduction for children to the magical world of books and in order to be properly introduced to this new world, children need to touch the pages as they read books with their parents, grandparents and teachers.
Thank you very much for the interview!
Interview conducted by Frank Krings, PR Manager at Frankfurter Buchmesse. It is part of Digital Cross Over - a cross sector project within the Creative Europe funding programme of the European Commission.