CEO Talk with John Sargent, CEO of Macmillan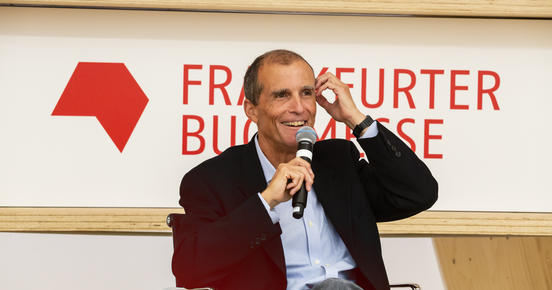 John Sargent, CEO of Macmillan, was featured at this year's Frankfurt CEO Talk in the Frankfurt Pavilion at Frankfurter Buchmesse. The CEO Talk is organised by Livres Hebdo (France), with Bookdao (China), buchreport (Germany), PublishNews (Brazil), Publishers Weekly (USA), and the Frankfurter Buchmesse Business Club, featuring "Global 50 - the Ranking of the Publishing Industry 2018". John Sargent was interviewed for 60 minutes by the editors of the trade publications on changing consumer habits and new international media competition around storytelling. A cooperation of five leading trade media outlets, the Frankfurt CEO Talk traditionally features the Global Ranking of the Publishing Industry, which has been updated every year since 2007 and currently represents 53 companies that each report revenues from publishing of over 150 million euros. At Frankfurter Buchmesse, the CEO Talk is a long-established tradition, and since 2014 it is part of the Frankfurter Buchmesse Business Club programme.
John Sargent is the Executive Vice President of the Holtzbrinck Publishing Group and CEO of Macmillan. He is responsible for Macmillan higher education business as well as for managing the global trade business. Formerly, Sargent ran the US operations of Holtzbrinck, including all the US trade companies, the Macmillan Higher Education group, St. Martin's Scholarly and Reference, Hanley & Belfus Medical Publishers and Scientific American. He started at Holtzbrinck as CEO of St. Martin's Press. Sargent has also served as CEO of Dorling Kindersley, Inc. and as the President of the Children's Book Division of Simon & Schuster. He serves on the executive board of the Association of American Publishers.