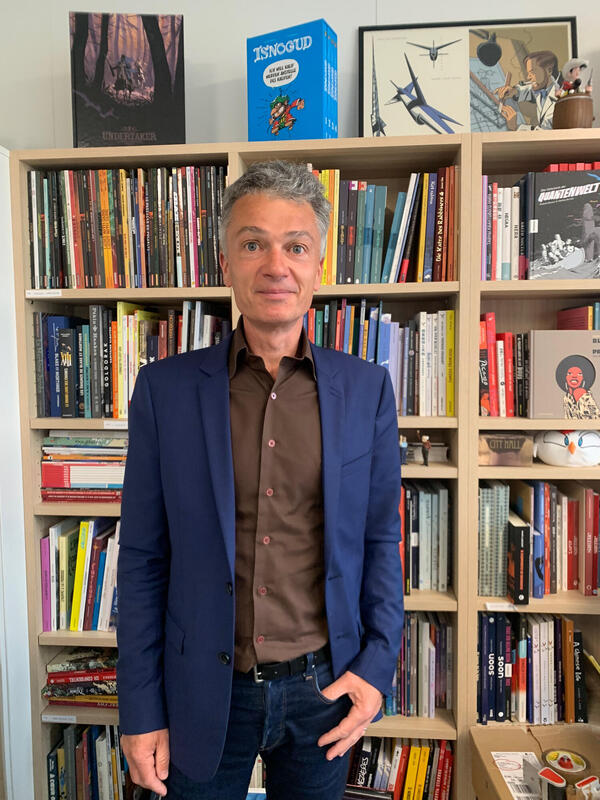 Whether Garfield, Lucky Luke or Batman: the Parisian foreign rights agency Mediatoon has them all under licence. And is therefore right at home at Frankfurter Buchmesse as the biggest trading centre for rights & licensing. But what do you actually do all day as a licence dealer for comics? Time for an interview with Nicolas Lebedel, International Rights Director for Mediatoon.
Dear Nicolas, can you describe your job at Mediatoon in terms of your typical working day?
My role is to supervise and support the incredible sales team dedicated to the sale of international rights. To regularly exchange with foreign publishers in order to better understand their expectations. To share with French publishers the expressions of interest in their rights, the contracts signed for new titles and the back catalogue. To follow new projects such as the transfer of rights of the DC Comics catalogue that we have just signed since the beginning of April or the Naruto license. Finally, to ensure with a dedicated team that we deliver the monthly publication of comics exclusively in digital under the Europe Comics brand.
Quite apart from the classic comic book heroes we know from our childhood: What is the new generation of comics? What are the industry trends?
For many years, comics have embraced all social issues - Le Monde sans fin, Elle (s) - and this is a strong trend that is becoming more pronounced with the transfer of titles that have a real resonance with our times. Nevertheless, the classic heroes of Franco-Belge comics are still very popular with foreign publishers, such as Lucky Luke, Spirou, Blueberry, Thorgal and Blacksad. As you know, manga is experiencing a considerable boom in the world, and publishers are looking for more and more manga series to acquire.
Since April you have also been responsible for rights trading for DC Comics. Which of them is your personal superhero and why?
Certainly Batman, for the complexity of the character, isolated and yet ready to save Gotham City every time. It's also a character that has been drawn countless times by a great number of artists, who have taken this character very far from his first stories in the 40s. I'm obviously thinking of titles like Batman The Dark Knight Returns or Batman Year One.
The licensing business is often an abstract matter for outsiders. Can you briefly describe how a successful licensing deal happens at a book fair?
First of all, it is the meeting with the publisher that is very important, the moment when we present the work to him and make him want to publish it in his market. It is necessary to be excited, and to try to make him remember a title, once he returns to his country. We're talking about graphic storytelling, drawing, so the discovery with the first drawn plates of a book to be published is a very important moment. It is not easy, because the number of titles presented at a book fair is really big. But it is only the first step of a process that will lead us to exchange after the book fair, by continuing to exchange with the publisher to convince him to sign a transfer of rights.
What are you looking forward to at Frankfurter Buchmesse in October?
For the past few years, we've been on the BIEF booth, where we are always very well received, but this time we wanted to come back with our booth, and create a space dedicated to the DC COMICS catalogue.
Thanks for the talk!
The registration for the Comics Centre is here.