No longer just a trend, audio content and formats such as podcasts and audiobooks have now become indispensable. We asked several experts from the audio industry to learn more about the uniqueness about the sector, hear what's up and coming in the market and get some new audiobook or podcast inspiration for the new year.
In our interview with Clarissa Pabi, Content Development Manager at Acast, we talked about the current enthusiasm for podcasts and discussed current trends. She provides insights about her successful transformation of an independent books podcast into a no.1 podcast and her collaboration with different authors - from Booker winner Arundhati Roy, through Matt Haig to Black Lives Matter co-founder Patrisse Khan-Cullors.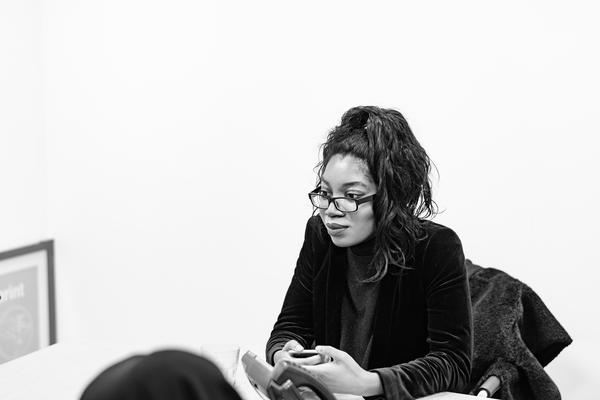 Please tell us a bit about yourself. How did your career in the audio business start and evolve, and which topics concerning audio are you most passionate about?
I love books and audiobooks, literature and oralture and like to think that my career in audio started either as a child listening to audiobook cassettes and CDs from my local library or as a student at Oxford University recording some of my English Literature lectures and tutorials!
I started my career in book publishing in 2012 at Penguin Random House and Bonnier Books where I worked in marketing for 7 years. Outside of marketing multiple bestsellers from Dr Edith Eger's The Choice through to The Martian and Lean In through to George The Poet's Search Party, my highlights include pioneering the first influencer and audiobook marketing campaigns at Penguin - resulting in the fastest selling audiobook from authors Dan and Phil (and the first audiobook to be published at a different time that the physical and digital editions), as well as creating and marketing the first non-branded podcasts within the publishing industry at the publishers I worked at.
Whilst working in publishing by day, by night from 2017 - 2019 I became the Executive Producer of an independent books podcast transforming it into a no.1 podcast and producing all the episodes with authors from Booker winner Arundhati Roy, through to Ysra Daley-Ward, Tomi Adeyemi, Matt Haig to Black Lives Matter co-founder Patrisse Khan-Cullors. I also created the first podcast residency at The Times and Sunday Times Cheltenham Literature Festival and year-long marketing partnership with bookshop chain Waterstones.
I've worked as Content Development Manager at Acast for the past 2 years, developing the UK and the world's most listened to podcasts, and bringing millions more listeners to podcasting. I work on podcasts from Talking Politics to gal-dem, The Missing Crypto-Queen, Feel Better Live More and the newly launched Relatively and Thank You Next. I'm most passionate about content development and audience development in the audio, so much so that outside of working at Acast I continue to produce no.1 podcasts like Caught Off Guard. I'm passionate about creating audio identities and audiences in the podcast space, I love collaborating with people and taking an initial idea and developing it into something even better and then making sure as many people as possible have the opportunity to hear it. So in short developing and amplifying!
The number of podcast consumers has been rising extraordinarily in the past years. How do you explain the current enthusiasm for podcasts? And which trends do you see for 2021 in podcasting?
Podcast content, audiences and revenue saw exponential growth throughout 2020, which I wrote about for The Bookseller in May 2020. This growth is set to continue in 2021 as more podcasts are developed and as more people discover and continue to listen to podcasts; and as for the first time, as reported by PWC, podcasting becomes a billion dollar industry. 
If 2020 taught us anything it was that like great books, podcasts don't just allow us to escape the world we find ourselves in - they allow us to find a way to live in, and through, it. Amidst the uncertainty, and devastation, podcasts helped inform, uplift, inspire, and entertain audiences, every minute of every day. They brought us the stories, voices, ideas - and crucially book recommendations - we needed to hear. I think podcasts ultimately allow us to connect with each other in a way that has, almost synesthetically, a human touch element to it, which is why I think so many people turned to podcasts in the last year particularly.
For the publishing industry what this extraordinary growth shows, both in terms of podcast listenership and commercial viability, is that audio can no longer be seen as an afterthought or as an ancillary part of a publishing program or marketing and PR campaign, but that strategies for how to engage with podcast listeners must inform how, when and why books are published and read.  One of the many ways the publishing industry can reach podcast audiences will be for more books informed by podcasts and written by podcasters to be published in print, and for backlist and frontlist audiobook titles to be voiced by podcasters and so I expect we will see more of this. The biggest challenge for publishers will be how to identify whether they should be publishing a book from a podcast or whether they should be promoting an author's book to that podcast's audiences.
In 2021 I think that the publishing industry has an opportunity to start leveraging podcasting as a tool for discovery but also as a tool for audience retention, particularly as established podcast creators will start to experiment with release of exclusive/premium/paid for podcast content for their audiences. One of my predictions for 2021 in The Bookseller was that we'd see podcasters experimenting with paid for podcast content, since that prediction, we've seen the first mainstream experimentation come from author and podcaster Malcolm Gladwell and Jacob Weisberg's audio company Pushkin Industries. Pushkin Industries released a short audiobook for $0.99 directly to listeners using RSS feeds as reported by Nick Quah in Vulture January 19th. As a result of the aforementioned I think we will see more focused podcast strategies across the industry from authors, publishers, booksellers and everyone in between, globally, and I think that's extremely exciting.
In your opinion, what does it take for a podcast to be successful, i.e. what makes a good podcast?
Podcasting is such a creative, immersive, and malleable medium. But podcasting is also a very audience-centric medium and so successful podcasts, in my opinion, are the ones that are creatively engaging, they are the podcasts that develop audiences as a direct result of the kind of content they release. I think that the most successful podcasts are made by people who thoroughly understand their audience, and are then able to scale word-of-month through marketing and publicity. But being able to do that starts with the podcast content and making sure you've developed the best version of your idea for the audience you are interested in reaching; as what resonates for one audience/content genre will not necessarily resonate with another. From my experience of working on some of the most successful podcasts in the world, developing a great podcast involves a lot of listening, iterating your idea, getting feedback and analysing the data on your audience, so working with developers and producers and marketers is crucial if you want to create a great podcast, particularly at a time when there are so many podcasts available, you need to be able to demonstrate to why listeners should be listening to your podcast over another. I like to get the people I'm working on a podcast with to answer the question: why are you making this podcast and why will people listen?
Thank you very much for the interview, Clarissa!
(Interview by Ines Bachor and Luisa Wagner, Frankfurter Buchmesse)