Meet our Digital Cross Over partner Ars Electronica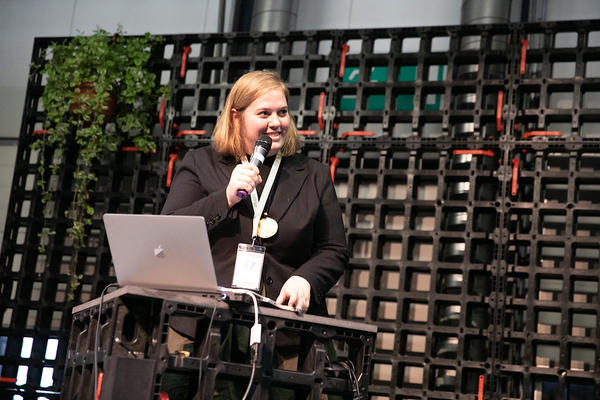 Meet Veronika Liebl, Director of European Cooperation at Ars Electronica. Ars Electronica is Frankfurter Buchmesse's partner in the cross sector EU project Digital Cross Over which is implemented by IMZ International Music + Media Centre in cooperation with Ars Electronica, Börsenverein Group, Centrica and izneo in the framework of the Creative Europe funding programme of the European Commission. The project team aims to demonstrate and explore the current challenges facing the creative and cultural industries: Who pays for the content created by cultural and creative professionals? How do we reach our target groups in the digital age and how can we learn from players from other industries who are or have been facing similar challenges? 
Could you please describe your job and your connection to Frankfurter Buchmesse?
Veronika: I don't want to make anyone jealous, but I think I have an extremely exciting job. I am Director of European Cooperation at Ars Electronica and develop European and international cooperation projects in the field of culture, research and education. Ars Electronica works primarily in the field of digital arts at the intersection to technology and society. Our world has changed radically, and digitisation has covered almost all areas of our lives. Ars Electronica's philosophy has remained the same over the years. Our activities are always guided by the question of what new technologies mean for our lives. Together with artists, scientists, developers, designers, entrepreneurs and activists, we shed light on current developments in our digital society and speculate about their manifestations in the future. I am closely working with many of our partners from arts, science and industry to develop and implement cross-sectorial programmes covering these topics, for example residencies, knowledge transfer or catalytic activities. And exactly these collaborative practises bridge also Ars Electronica and Frankfurter Buchmesse, in particular their ARTS+ programme. Currently, we are connected mostly through two projects: The Creative Europe funded project Digital Cross Over seeks for future digital strategies for the cultural and creative sector through cross-sectorial knowledge and resource exchange. Second, we look together into innovation in the field of the next generation of media through an interdisciplinary prize competition, the S+T+ARTS (Science, Technology, Arts) Prize from the European Commission.
Linz is the usual location of the Ars Electronica festival. In 2020 due to the pandemic situation, you organised the festival on site and digitally. What were the challenges and opportunities of the first hybrid Ars Electronica festival of this kind?
Veronika: Once a year since 1979 we celebrate the Ars Electronica Festival. More than 1,000 artists, scientists, developers, designers, entrepreneurs and activists are coming annually to Linz, Austria, to address central questions of our future. For five days, everything revolves around groundbreaking ideas and grand visions, unusual prototypes and innovative collaborations, inspiring art and groundbreaking research, extraordinary performances and irritating interventions, touching sounds and rousing concerts. In 2020, Ars Electronica staged for the first time ever a hybrid festival contributing to an increased understanding of alternative paths for the future of festival production. This experimental new edition – in collaboration with 314 international partners – led to extensive learning on how to optimise interaction and presentation forms with online audiences and reached more than 160,000 views on 4 streaming channels from more than 136 countries, more than 227,000 page views on the festival website, more than 37,000 visitors in our virtual festival world in Mozilla Hubs as well as more than 10,000 on-site visitors in Linz.
In the couple of weeks during the first lockdown, we developed a specific organisational principle of an international festival in times of a global pandemic: a festival not diving into regional, physical events and disappearing there, but emerging from the network and manifesting itself in many places around the world, distributed and networked. Starting in Linz and working with partners from Ars Electronica's extraordinarily large international network that has grown for over 40 years, "real" events took place in more than 120 cities around the world, with "real" artists and scientists, partly also for "physical" audiences, all of which were networked into a festival from September 9th to 13th, 2020. An online platform also presented artists, musicians, composers and researchers who are exploring the interaction between man and machine in videos, concerts, performances, conferences, workshops and hackathons. With this simultaneity and duality of local-physical and globally networked events, Ars Electronica 2020 became an exciting experimental laboratory and prototype for a next-level networking primarily focusing on new forms and possibilities of fusion and coexistence of analog and digital, real and virtual, physical and telematic proximity.
Without doubt, Ars Electronica would have not been able to stage a festival this year without the valuable programming of so many partners around the world. This also allowed a substantial collective experimenting and learning of different formats, tools, technologies, methodologies, actors and practises for hybrid cultural offers.
We also gained a substantial understanding on how important and difficult online interaction with audiences is to replicate personal exchange and feedback structures similar to those provided by a festival or fair. A festival is built on two-way and crowd communication which is highly important for the dynamics and productivity of exchange. Technological solutions for online and hybrid solutions are manifold, but facilitation is extremely resource intensive. We experienced, for example, that you need approximately 3-4 times more staff specifically in areas of media production & technology as well as online communication with audiences and participants to organise a professional online conference. This also often requires competences from other sectors and speedy capacity building.
What makes it even more complex is, that one can almost speak of a culture (and maybe even generational) clash of two different user groups within our online festival, which not only show contradictory user behaviour but also require different content production and distribution processes: live audience and on-demand user. The Ars Electronica 2020 didn't stop on the last day of the festival, there a completely new journey of post-production, content usability & searchability as well as communication started - with the reward of high viewer numbers.
The pandemic brought up a lot of burning questions and lively debates on the future of the cultural and creative sectors. Which topics will set the tone in the industry in the next decade?
Veronika: Although it might currently be out of the focus of the general attention, the global pandemic has further accelerated the most pressing societal challenges. What came out of this Ars Electronica is a vital indicator for us that festivals are needed more than ever. Festivals do have an important role in critically discussing societal developments, that - specifically in times of crises - they can lead to impulses and change. This year the two dominant topics at the festival were democracy and ecology. And of course also the pandemic, but much more on related levels such as the effects on democratic structures and how the current situation should be a trigger for environmental change. 
Also, our festival is about analysing and investigating how new technologies shape and influence the world and how artists and creative people can contribute to a better, more humane development of the digital world. Especially in recent months, the Covid-19 pandemic has made abundantly clear how crucial digital tools are today, helping people all over the world to stay in contact. But we should increasingly ask ourselves if these technologies are sufficiently addressing our human needs and agency. Today, we need this critical and artistic reflection more than ever to develop solutions we really want.
At the same time, this cultural encounter of the digital domain brings also huge opportunities. Cultural players will be increasingly addressed to provide their expertise of creative online and hybrid communication. At Ars Electronica, we do already experience the high demand of many sectors other than culture to develop digital strategies. Many actors in CCIs can provide valuable insights based on their exploration of online cultural services and digital productions.
What would be your most amazing experience at Frankfurter Buchmesse 2021?
Veronika: Frankfurter Buchmesse perfectly understood this year what their professional audience needs and developed interesting online alternatives. I very much enjoyed meeting collaboration partners as well as new faces and engaging in focused discussion on the future of cultural and creative organisations. As always – no matter if on-site or online – Frankfurter Buchmesse has an enviable talent in bringing together interesting people and actually making them work & think on the future of the sector. Today more than ever, the sector needs the expertise of experienced players such as the Frankfurter Buchmesse to develop new ways of cultural economy. If the digital skills of the creative and cultural industries are to be monetised, experience and a culture of exploitation are needed, which many cultural organisations still have to build up. I hope that the Frankfurter Buchmesse 2021 will be a driver as well as platform for this discussion and process. I am really looking forward to it!
Thank you very much for the interview, Veronika!