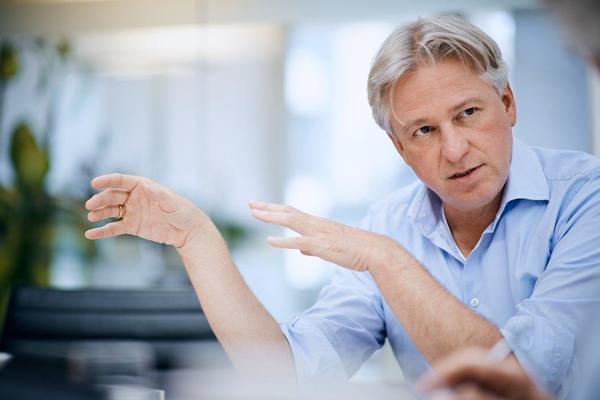 After the cancellation of the book fairs in Bologna, London, Paris and in Leipzig recently, many people have been asking how the book publishing industry will deal with this new, inherently uncertain situation. What losses are to be expected? Which opportunities could result from greater virtualisation of the industry's activities? Questions for Juergen Boos, president of Frankfurter Buchmesse
By Mara Delius, Editor in Chief "Die Literarische Welt"
DLW: A number of book fairs have been called off, for example in Leipzig, London and Paris, along with countless literature festivals. Will we have to get used to participating in "virtual" book fairs?
Juergen Boos: The situation we are currently experiencing is unprecedented. It's quite a blow for the fair organisers, exhibitors and authors who have spent months getting ready for these events. That also applies to us, incidentally.
We organise some 20 German collective stands at international book fairs each year. Germany was scheduled to be Guest of Honour in Thessaloniki in May, an appearance we were organising. The plan at the moment is to postpone it until a later date. That makes the creative responses to this situation that have been initiated by publishers, booksellers, the media and even readers all the more impressive: from #bücherhamstern, #sbm20 and #virtuellebuchmesse to #whatamesse.
All these activities are good, loud and important. For me, this clearly demonstrates the sense of community present in an industry with a robust virtual network. What is missing, however, is the incredible energy that develops when a lot of people come together for a short time – for intense, direct, personal exchange. The extensive media presence of the authors, the high-profile presentation of issues and events, the close proximity of writers and the audience. The opinion-driven public discourse. The award ceremonies. The chance encounters, the festive gatherings.
Book fairs celebrate the industry itself. They also play a significant role economically, providing a venue for various activities – from customer acquisition and business development to cooperative agreements, from product presentations and trendspotting to recruiting and further education. This is particularly true of the digital segment. All these business and networking options thrive on face-to-face interactions.  In my opinion, approaching them virtually is not something we can realistically do in the foreseeable future. At the same time, we are forging ahead with the digitalisation of various industry activities, as can be seen in IPR, our platform for digital rights trading.
DLW: In business terms, how important would you say it is to have a public gathering? Can you put a figure on it?
JB: The cancellation of this spring's trade fairs means that many books, authors and their subject matter will get much less attention than they otherwise would. Fairs usually drive public discourse, addressing numerous questions: Which discussions are relevant? What do authors have to say about current events? Which trends and innovations will be important in coming months? These intense debates lead readers to authors and their works. I would say that this effect is much less evident this spring.
Beyond the fairs themselves, virtual all talks and readings have been cancelled, which means authors and booksellers will have to do without some of the income they were expecting, creating a precarious situation. The in-person meetings that take place for selling rights and licences at the fairs in London, Bologna and Frankfurt are also very valuable. The agents who come together at the Literary Agents & Scouts Centre at Frankfurter Buchmesse spend five days talking with business partners from five continents. You can't assign a euro amount to that type of contact.
 
DW: In terms of industry players such as agents and publishers, who could keep working without face-to-face meetings and who couldn't? Or is it becoming clear that total digitalisation without personal contact and shared real-world events is not feasible?
JB: The industry operates at full speed all year-round, and its routine activities are already highly digitised – with all the advantages that brings. Yet the major fairs and festivals offer a public space and business opportunities that can't be replicated virtually one-to-one.
DLW: Much more than Leipzig, Frankfurter Buchmesse is a fair where deals are done. The fact that Leipzig is not taking place will therefore have minimal impact on the book industry's sales figures. How would that be different in Frankfurt's case?
JB: As mentioned, Leipzig's cancellation will have painful consequences for the German industry. At the same time, it's true that Frankfurter Buchmesse not only brings together players from international publishing, it does the same for various segments in the media and the entertainment industry. To a much greater degree, we represent the entire value chain for people who deal in creative content. The economic potential is therefore considerable.
DLW: Various international book fairs have been called off or postponed in recent days. To what extent are you in contact with other book fairs? Do you coordinate decisions, or do the procedures differ from country to country?
JB: A network of book fair directors has existed for 30 years and at the moment we are in contact with everyone, from Buenos Aires to Taipei. Everybody is affected by the current situation and the focus is on ensuring an effective exchange of information.