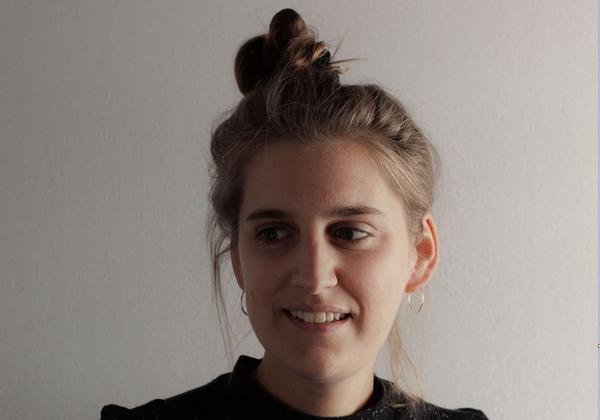 In just a short time, Tatjana Prenzel has achieved something many people only dream of: seeing her illustrations appear in the New Yorker and the New York Times. The young Frankfurt-based artist talks about the importance of leaving things out of drawings and why she thinks better when she's putting pencil to paper. By Kathrin Grün
She has illustrated dance performances for The New Yorker and book reviews for The New York Times. She has drawn exclusive hotel resorts for the magazines Relais & Chateaux and Papier Magazine, designed book covers for Penguin Random House USA and created wall art for an eyewear store in the US. In summer 2019, she was asked to teach at the University of Applied Sciences in Würzburg. In just a short time, Tatjana Prenzel has accomplished something many illustrators only dream of: since completing her degree in 2018 at the University of Art and Design in Offenbach, the young Frankfurt-based creative has watched as the commissions for her artwork pile up.
When asked if she has specialised in a certain area since completing her studies, she replies, "A year ago, I never would have thought I would be working for The New York Times and am pretty amazed that it's happened. I've always been very interested in illustrations for the publishing world. I think it's important to stay open to all types of jobs, especially when you're just beginning. Something I'd like to do more of is book and cover design. I'm interested in how you use an image to tell a story, how you structure it, how much you can leave out to activate the viewer's imagination."
Prenzel has always had an affinity for books. These days, the 28-year-old has a relatively large collection of picture books from various countries and she even designed two of her own during a semester abroad at Haute ecole des arts du Rhin (HEAR) in Strasbourg.
One thing she finds particularly important is trying out new ideas instead of just placing artwork next to a text. For her final piece in Offenbach, she illustrated three short stories by the American author Raymond Carver. "I find Carver's stories fascinating, since they are written with such rich imagery", Prenzel says. "When you read stories like that, you ask yourself how an illustration might contribute to it, what it can add. I decided to work spatially. All three stories were drawn using different materials, which were geared towards the narratives themselves. I drew 'Gazebo' on paper, since it's about something fragile. I drew the illustrations for 'Little Things' on wood, using coloured pencils. The story tells of a decision that is hard and resolute, just like wood. I drew the third, 'I Could See the Smallest Things', directly on the wall in pencil so the images would be especially penetrating and at eye level with the viewer."
Prenzel hung the works so that it wasn't clear which picture belonged to which story. "That, in turn, gave rise to a fourth narrative — which was influenced by the viewer's perspective", she explains. "The work was complemented by three wooden figures displayed throughout the room which represented characters from the stories." Her final piece was awarded the Fazit Foundation Prize and it marked a turning point: "We had a year to complete our degree pieces and it was during that period of intensive effort that I developed my style, the way I draw."
She works with coloured pencils on paper. The hues are luminous without being garish. What makes the pieces compelling are the strong contrasts, created using light and shadow, for example. They are forceful yet temperate, the result of the pencils' saturated hues. Even though Prenzel's figures are voluminous, they seem to float. "What I find interesting is how you create a certain atmosphere in a picture. That's what's important — capturing a particular mood," she says. This mood — a mixture of melancholy and ennui, of absence and dreamy reflection — is characteristic of Prenzel's art and expresses what an entire generation of young cosmopolitans is feeling.
When the British blog It's nice that presented Prenzel's final piece, it served as a sort of admissions ticket to the world of magazine illustration, attracting the attention of art directors at The New York Times and The New Yorker. Prenzel's creations for two of the most read publications in the most populous American city quickly led to more work. It was undoubtedly a satisfying turn of events for the art-school graduate who, like thousands of other illustrators, had journeyed to Bologna to join the queues at the children's book fair so she could present her portfolio to publishing-house editors.
An Instagram account, a website and a willingness to knock on doors — in addition to artistic talent, those are the prerequisites for successfully launching a career as an illustrator. At first Prenzel had to overcome her reluctance to approach art directors. "I had the feeling that my portfolio wasn't yet meaningful enough. That it didn't help them see all the things they could use my work for", she explains. That fear is now unfounded, as the list of people waiting to collaborate with her grows and grows.
When Penguin Random House commissioned her to do the cover for Emma Straub's novel All Adults Here, she found one of her wishes coming true. She was given a few weeks to create the cover and, since the briefing specified "floral design", Prenzel put together studies of poppies, hibiscus and chrysanthemums. Straub then discovered Prenzel's other work and said she wanted a figurative cover. The final version has four figures on it which overlap and mirror each other.
"The what that wants to be told is always more important than the how", she says. When asked which ways artistic talent and craftsmanship complement each other, she explains: "Initially, the main thing is the artistic aspect and the idea, which can't be realised without craftsmanship. One doesn't work without the other, both support and complement each other. Craftsmanship is important for expressing yourself, but a well-crafted drawing is boring if there is no artistic impetus behind it."