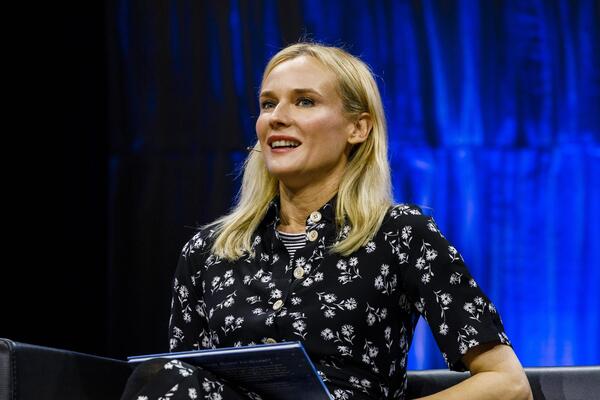 In her first children's book, actress ("Troja", "Inglourious Basterds") and mother Diane Kruger tells an enchanting story about the power of names on children's identity and how the meaning of her own name gave her confidence as young girl. In our short interview, Diane talks about her experience working with illustrator Christa Unzner and what she looks for in children's books. Diane Kruger will present her children's book, "A Name from the Sky," at Frankfurter Buchmesse on October 22 at 1:30 p.m. in Saal Harmoni, Congress Centre. 
Congratulations on your literary debut! In your book you open up about how, as a child, you were inspired by the meaning of your name. To what extent did this experience influence you in naming your daughter?
Thank you! I am very excited. When my mum first explained to me the meaning of my name, I felt like the world opened up to me and I gained a little more confidence. I remembered this when I got pregnant myself and asked myself what name we were going to give our daughter. I am sure that many parents have the same thoughts and I hope that they like my very personal story - especially their children!
How did the collaboration with the illustrator Christa Unzner come about?
I really wanted a classic illustration that would remind me of my own childhood and my German Editor, Michael Neugebauer, then introduced me to Christa. I was immediately smitten with her, and the collaboration was wonderful - a dream. She is a true artist and helped me every step of the way to turn my thoughts into even better images.
Now that you have written your own children's book, do you look for certain characteristics in children's books? What do you expect from a good children's book?
I love books. And I am very sensitive to the illustrations. I usually stand in the bookstore and read 10-15 children's books before I buy one or two. Now I also bring Nova with me, and I always find it very interesting to see what catches her eye and what stories she likes best. You can meet both of us quite often at the bookstore.
What new experiences did you have during the writing process and with the publication of your first book?
Well, of course I'm not an author in that sense. It was a challenge for me to write "only" 800-1000 words and to tell everything I wanted to tell. It took a long time, but it was also a great experience to limit myself to the essentials and then let the pictures speak for themselves. I would love to venture into fiction! It was a very beautiful, intimate experience. 
What are you most looking forward to at Frankfurter Buchmesse?
I'm looking forward to meeting people and hopefully children and I can't wait to read my book out loud for the first time in front of children I haven't met before. My daughter is already very critical, just about the color of her dress in the book. I look forward to everything and everyone.
Book launch with Diane Kruger "A Name from the Sky".
When: Sat, Oct 22, 2022, 1.30-2.30 pm at Saal Harmonie Congress Center on Level 2