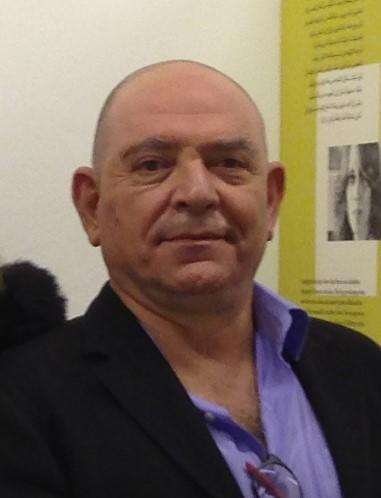 Publisher Lokman Slim
© Roman Deckert via Wikimedia Commons
Frankfurt, 5 February 2021
Yesterday it was announced that Lebanese publisher Lokman Slim was found dead in his car on a road in Southern Lebanon, murdered by multiple shots to the head, according to police. Juergen Boos, Director of Frankfurter Buchmesse; Alexander Skipis, Managing Director of the Börsenverein des Deutschen Buchhandels (the German Publishers and Booksellers Association); and Juergen Horbach, Spokesman, Freedom of Speech Committee of the Börsenverein des Deutschen Buchhandels, commented on this as follows:
"We are shocked and deeply saddened by the murder of filmmaker and publisher Lokman Slim and we call for an international investigation into this callous murder. The international publishing community mourns a fearless, outspoken, and committed fighter for the right to freedom of expression. 
In 2004, Lokman Slim and his publishing house Dar Al Jadeed participated in Frankfurter Buchmesse's invitation programme, which is funded by the Federal Foreign Office. As a co-founder of the Documentation and Research Center UMAM (https://www.umam-dr.org//about/), Lokman Slim was committed i.a. to analysis and debate regarding the recent history of Lebanon and Syria. Together with his German partner Monika Borgmann, he made the award-winning documentaries Massacre (2004), on the perpetrators of the Sabra and Shatila massacre, and Tadmor (2016), about a torture prison run by the Assad regime. 
We offer our sincere condolences to Monika Borgmann and Lokman Slim's sister and co-founder of Dar Al Jadeed publishing house, Rasha al-Amir, as well as the entire family." 
Supporting this statement, IPA President Bodour Al Qasimi said: "We were saddened to learn of the loss of Lokman Slim, a valued member of the international publishing community. His murder, apparently for exercising his right to freedom of speech, calls for an international investigation into his death. We must ensure that others are not scared into silence."