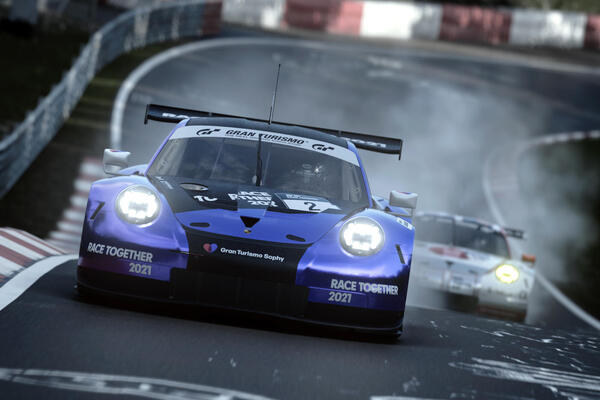 © Polyphony Digital & Sony AI
Projects at the intersection of art and technology: The S+T+ARTS Prize has been awarded since 2016 to innovative projects that combine science, technology and the arts and decisively impact economic and social innovation (S+T+ARTS). Three projects from the pool of the 2022 winners and nominees will be featured at Frankfurter Buchmesse (19-23 October) in THE ARTS+ area and during the S+T+ARTS Day on Friday, 21 October 2022.  
Gran Turismo Sophy™, a revolutionary racing agent developed by Sony AI, Polyphony Digital and Sony Interactive Entertainment, was one of this year's S+T+ARTS Prize nominees and featured in the renowned "Nature" magazine. It was designed to improve the gaming experience of top Gran Turismo® Sport drivers and was created with deep reinforcement learning techniques.  
We spoke with Kaushik Subramanian, senior research scientist at Sony AI, who is part of the developers' team that created Gran Turismo Sophy™.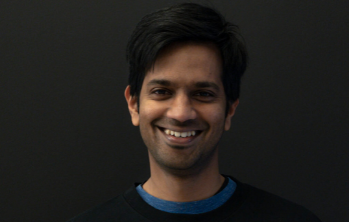 We are curious, do you play Gran Turismo yourself? And how did you get involved in this project? 
I played a few different racing games growing up but perhaps not Gran Turismo until I got involved in the project at Sony AI. The start of the project goes back to 2016, even before the formation of Sony AI, when a colleague, Kenta Kawamoto, began exploring the idea of using the game for AI research. I started to work on the flagship gaming project in 2020 and that's when I learned about the work and the progress that had been made. It was an exciting time to start and I have not looked back since. 
What was the original idea behind the project?  
In 2016, a researcher at Sony Corporation R&D Center was interacting with the Gran Turismo (GT) game developers, Polyphony Digital, and exploring the idea of using the game as a platform for AI research. The questions that were explored include: Can the AI car learn to drive as fast as the best e-sports racers in the world? Can the AI challenge them in a competitive race while following the rules of racing? Can the AI drive different types of tracks and cars? Much of the existing research in this area was unable to provide satisfactory answers to these questions for commonly used simulated racing domains, let alone in a realistic game like Gran Turismo. This was the main idea behind using Gran Turismo as a domain to push the frontiers of AI research. 
What challenges are to be expected in a project like this? Which ones did surprise you, and how so? 
There are several challenges in developing an AI car to race in this game. The AI controlled car would have to learn to model the realistic physics involved in automobile racing. It would need to learn about the complex dynamics for car control on different types of tracks with different road surfaces, to learn the skills necessary to compete with other cars and overtake, follow or block them. Perhaps the hardest challenge is related to driving with good racing etiquette. This is a largely underspecified aspect of the game and usually involves human review to enforce these rules. Automating this aspect posed a unique challenge in the development of GT Sophy.  
There is very little room for an error when competing at an advanced level in racing. The AI car needs to have fast and precise control. A single mistake can lead to a collision, driving off the track or hitting the track barriers and this can be very costly. 
How do you hope to expand Gran Turismo Sophy™ or the AI technology behind it in the future? 
One of the exciting ways we have been exploring to expand the work is to make it accessible to a larger audience. Gran Turismo 7 is the most recent release from Polyphony Digital and we would like to have GT Sophy be a part of it in the near future. This way everyone who has the game has a chance to drive against GT Sophy and learn about ways to improve their racing craft. The work we have put in to create GT Sophy puts us in a great position to tackle other aspects of racing like strategic decision making, robustness to weather conditions, pit stops as well as look beyond to other types of games. We are excited about these prospects to further advance AI research. 
Thank you very much for the interview! 
Learn more about the development of Gran Turismo Sophy™ at Frankfurter Buchmesse: Kaushik Subramanian will be in conversation with Holger Volland, member of the board of brand eins, on Friday, 21 October, at 11.00 am (Frankfurt Studio: Hall 4.0, Room Europa).  More information 
Further S+T+ARTS projects that will be presented at Frankfurter Buchmesse: 
The Glass Room (Hall 4.0 F 30): Misinformation, disinformation and conspiracy theories – what makes information reliable or dodgy? The exhibition "The Glass Room" will be open on all five days of the fair. More information 
Antarctic Resolution: 21 October, noon – 1.00 pm, Frankfurt Studio   
What do we know about Antarctica and how can we protect it? From chemists and climate scientists to logistics managers: 150 experts on Antarctica from various disciplines have contributed their knowledge to the book Antarctic Resolution (Lars Müller Verlag). Speakers: Guilia Foscari (architect and founder of UNLESS), publisher Lars Müller and creative director Marco Cendron (POMO). More information 
Interview by Lara Ringel Fraile, Marketing & Communications, Frankfurter Buchmesse