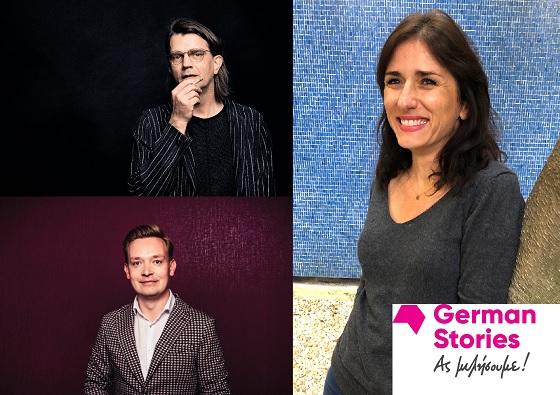 © Christian Ruzicska (©Mathias Bothor), Christoph Hassenzahl (©privat), Niki Théron (© Nurettin Cicek)
The Thessaloniki Book Fair has a history going back 17 years. Since then, it has been an important meeting point for publishers, authors, translators, literary agents, booksellers, librarians, academics and literary institutions from Greece, the Balkans, Western Europe, the South-eastern Mediterranean and the whole world.
This year, German-speaking literature is going to be the Guest of Honour at the Thessaloniki Book Fair (25-28 November 2021). Frankfurter Buchmesse, the Goethe-Institut, Litrix.de, and the Hellenic Foundation for Culture have jointly developed the Guest of Honour appearance of German-speaking literature and put together a hybrid programme. Under the motto "Let's Talk", numerous German-speaking authors will appear on site together with Greek colleagues and thus jointly promote dialogue, networking and cultural exchange. The programme will be rounded off by digital lectures by German and Greek experts on the topics of "New Business Models" and "Book Design as an Art Form".
Deutsche Welle and the publishers Arena, Beltz & Gelberg, Carlsen, Cbj / Penguin Random House, Ellermann Verlag, Oetinger, Finken Verlag, Fischer Kinder- und Jugendbuchverlag, Jungbrunnen, Kosmos Verlag, Hanser, Loewe, Migo Verlag, Penguin Children's, Penguin Random House, Ravensburger, Sauerländer, Schweizerbart Bornträger, Suhrkamp, Tessloff, as well as 26 independent publishers of the Kurt Wolff Foundation, will present their titles at the German joint stand.
We spoke to Niki Théron, Senior Manager International Projects at Frankfurter Buchmesse, Christoph Hassenzahl, Senior Rights Manager at Suhrkamp Verlag/Insel Verlag and Christian Ruzicska, publisher at Secession Verlag für Literatur, about what they expect to see at the Thessaloniki Book Fair, and what the public can look forward to.
Niki Théron, Senior Manager International Projects, Frankfurt Book Fair
The guest of honour appearance of German-speaking literature at the Thessaloniki Book Fair, originally planned for 2020, is finally taking place at the end of November 2021. How great is the anticipation?
After two years of intensive preparations, plus the need to pivot the original appearance into digital formats and the long break from travelling to foreign fairs, the anticipation for the Guest of Honour appearance in Thessaloniki from 25 to 28 November is simply enormous!
How are the preparations going? What can we look forward to?
The preparations are going very well. We are in close consultation with our main partners, the Goethe-Institut, Litrix.de and the Hellenic Foundation for Culture and a host of other Greek and German partners - foundations, museums, publishers and institutions. We are a German-Greek-French team full of passion and power.
Visitors can look forward to an exciting and colourful Guest of Honour programme with exhibitions, author and publisher talks and workshops on site.
Thessaloniki is the Greek stronghold of creative people and we have put the focus on book design in the area of creative industries: we offer events and workshops, and together with the Goethe-Institut, the Hellenic Foundation for Culture, the Stiftung Buchkunst, the design organisation EBGE and MOMus, we are launching a young talent competition that will award excellent young book designers and publishers from 2022.
It is also great that publishers, authors and designers from all over the world can take part in two online events with inspiring speakers on "New Business Models & Innovative Storytelling" on 16 November and "Book Design: Best Practices & Visual Storytelling" on 18 November.
What is the focus of this year's Guest of Honour appearance?
Our motto is "Let's Talk!" and it is the common thread of this Guest of Honour appearance. We would like to promote dialogue with Greek publishers, authors, translators, book designers, cultural workers and, of course, readers in all event formats and play our part in overcoming mutual clichés. Germany and Greece are linked by a centuries-old common history, some of which was tragic. The digital exhibition of the Goethe-Institut Thessaloniki "Gespaltene Erinnerungen" (Divided Memories), for example, deals with traumatic experiences of German-Greek history in the 1940s.
But we also want to promote dialogue about the world today, and together with great thinkers like the journalist Julia Friedrichs (author of "Working Class"), the philosopher Eva von Redecker ("Revolution für das Leben"), the historian Dr. Andreas Kossert ("Flucht. Eine Menschheitsgeschichte") and the authors Bettina Wilpert ("Nichts, was uns passiert") and Bijan Moini ("Der Würfel") we will be discussing such diverse topics as work and poverty, new forms of protest for a better life, migration, dealing with sexual violence, and the way algorithms and AI influence our lives.
We are very pleased that the writer and book designer Judith Schalansky has accepted our invitation to Thessaloniki on the occasion of the Greek publication of her "An Inventory of Losses", as well as the great satirical writer and cartoonist Stefanie Sargnagel ("Dicht").
Finally, the successful children's author Margit Auer will present her "The School of Magical Animals" in Thessaloniki, which has just been adapted into a movie here in Germany.
Who is the Thessaloniki Book Fair aimed at? Does it rather offer a programme for the professional audience or for the private audience as well?
The Thessaloniki Book Fair is a popular public fair and in 2021, more than ever, a very important meeting place for the Greek book industry. The numerous talks we had in Athens and Frankfurt in the run-up to the fair showed that Greek publishers and cultural institutions are very interested in exchanging ideas with German colleagues, and we are looking forward to networking with each other.
Christoph Hassenzahl, Senior Rights Manager, Suhrkamp Verlag / Insel Verlag
How much are you looking forward - after such a long time - to finally taking part in a book fair abroad again?
The anticipation of personal encounters and the positive dynamics of a physical fair is naturally great! A month ago, during a week of visits to publishers in Paris, I was able to ascertain that - despite all the conveniences and additional availability of digital tools - nothing replaces in-person exchanges, the special intensity of a conversation in a shared, culturally significant space such as a publishing house, bookshop, fair or event stage, and how much more confidently dialogue about content takes place under these conditions. Face-to-face meetings, especially at international book fairs, are essential for the international rights business!
How important is the Greek market for Germany or how much can the two markets benefit from each other?
The Greek book market has been suffering, particularly from the economic cuts of the past decade and a half. The commitment of Greek publishers to participate in the international dialogue on literature and science has been unbroken, even though the cost-intensive work with translated books in particular depends heavily on the vitality of a book market and the purchasing power of the public. The fact that even the repeated setbacks caused by the pandemic have not broken the joy of discovery of the Greek publishing houses, and the courage of those responsible for the publishing programme, is cause for optimism in these crisis-ridden times.
With what aim are you, as Suhrkamp, taking part in the German of Honour appearance? What are your expectations?
As always for the Rights und Foreign Rights department at Suhrkamp, the focus is on long-term international support for our authors and continuing to communicate their works, and on introducing new voices. On the one hand, I am looking forward to seeing the results of the discussions of recent years represented at the fair, for example the recently published Greek editions of Judith Schalansky's "An Inventory of Losses" (Antipodes), Clemens J. Setz's "Der Trost runder Dinge" (Gutenberg) or Sasha Marianna Salzmann's "Außer sich" (Patakis). On the other hand, I would like to get the Greek publishers excited about the works in our rich autumn programme, e.g. the new books by Svenja Leiber, Emine Sevgi Özdamar, Andreas Pflüger, Natasha Strobl or Stephan Thome, to name but a few. And who knows, maybe a Greek publisher will finally be found for Uwe Johnson's "Jahrestage"?
How important is the presence of German publishers and German voices at various international book fairs?
International publishers around the world translate literature, non-fiction, children's books or humanities from dozens of languages more naturally today than they did twenty years ago. Accordingly, the number of potentially available programme slots for translations from the German is at the same time dwindling. The enormous diversity of German-language book production, and the wide range of available rights, becomes particularly visible at an international collective stand. International book fairs are indispensable points of reference, especially in the global licensing trade, and create the best possible atmosphere for a large number of concentrated discussions that result in deals for translated books that will be in the bookshops in subsequent years. In addition, the licensing publishers in the respective target countries need the supportive bundling of media attention that arises from a guest country appearance, and the participation of translated authors at fairs is often an indispensable instrument for making their works known to the respective audience. International book fairs are indispensable for ensuring continued dialogue between publishing colleagues from different countries, and not only cultural dialogue.
Christian Ruzicska, Publisher, Secession Publishing House for Literature
The Kurt Wolff Foundation is part of the Guest of Honour appearance of German-speaking literature at the Thessaloniki Book Fair. A total of 26 indie publishers will be represented. What is the reason for this strong interest in the Greek market?
Of course, I can't speak for all the other independent publishers, but I think that the different motives for this decision to be present in Thessaloniki do overlap at certain points. It is a very important factor, especially for the independent and thus mostly smaller publishing houses, to come across literature in personal conversations and through individual and unique experiences. In an ideal world, that personal conversation can quite possibly change one's opinion and perspective. With books that fulfil this criterion, we in turn fulfil what I see as a very important social function, namely to offer food for thought on an artistic level and, I would like to emphasise, on an emotional level too. If we succeed in presenting readers with books that stand out from something like the so-called mainstream - I don't like that word, but you get my meaning - in terms of style, their way of telling stories and in the quality of their language, then we can give our readers something almost priceless: the spirit of a book on an emotional or inspirational level, a possible alignment with their own personal experiences, and in the best case scenario a change in their perceptions or opinions that can have an impact on many things. For me, this is one of the most important moments of reading literature: I am a different person after reading a book, and if this change is a fruitful process, then I have become a richer person from the experience. I have grasped something very specific that could be conveyed to me through the fate of the characters with whom I may have spent time together over several hundred pages.
Conversely, of course, we also hope to be able to present our own books to Greek publishers, with the aim of also making our current perspectives more widely received by conveying them to another culture. In my opinion, a translated book is actually made more perfect by the fact that it can take on different dimensions in another language. It lives because it changes, even if only minimally, through the target language into which it is translated. I think that this aspect is extremely important for the inner-European cultural area. So, it's all the nicer that we now have the chance to discover a literary landscape whose presence in this country, in the German-speaking countries, is hardly known.
What are the main focuses?
I suspect that in addition to discovering each other's literatures, it will also be a matter of exchanging experiences of dealing with the impact of recent events. Questions such as how the market for independent publishers is developing in European countries, or how the current discourses that take up the most space in the media override the perception of philosophical content, and thus also the question of how we can still communicate this. Certainly the big question will also be what future we independent publishers have and how we can shape it, what possibilities we see going forward. In all these fields, personal exchange is extremely important and can help us to learn where others have already made experiences.
What are you looking forward to most?
Indeed, as at every fair, the people I will get to meet.
How important is literature from Greece, the Balkans and the south-eastern Mediterranean for the German-language market, and especially for you as a publisher?
First of all, the only thing that is important for me is the opportunity to discover these literatures. Fundamentally, I am curious, almost hungry, to come across something that fascinates me and that I would very much like for many other people to have contact with as well.
And a little more politically speaking: The more literature we translate from different European countries into our respective languages, the greater our curiosity about these cultures will be, and also our understanding of them. This is what has happened to me in the last two years with Poland, for example, where I was able to get to know the author Jakub Małecki, whose novels have taught me something about our neighbouring country that I did not have before, and which I certainly didn't possess the intensity of feeling and understanding for before. After reading his novels, I certainly now travel to this country with different eyes. And this experience is very valuable. If we now turn our gaze to the countries you mentioned, I will certainly not be wrong when I say that only a fraction of our readers know the inner cultural connections of these regions and countries. This is quite the opposite of countries like France or England, whose literature has a very good, and now very old, tradition with us! As for mediation, and I think our work as a whole can be summarised under this term: publishing in this country is just as invaluable in increasing curiosity, knowledge and experience in our society. I am looking forward to this journey!