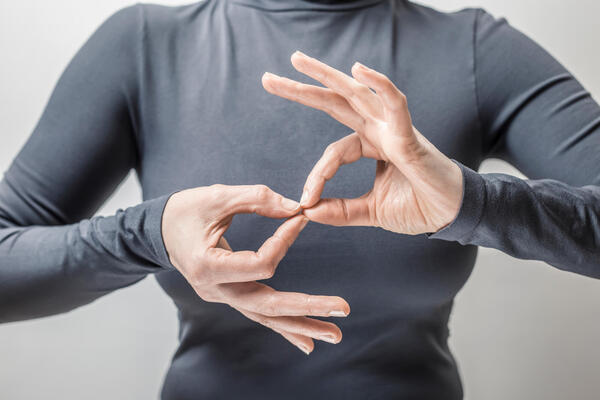 "We mediate not only between two languages, but also between two cultures"
As a sign language interpreter, Katharina Nickel and her colleague Beate Neumann will once again be working for us at this year's Frankfurter Buchmesse and will be translating numerous events into sign language during the weekend of the fair. We wanted to find out more about the interpreting profession and her work at events.
Ms. Nickel, how does one become a sign language interpreter? And how did you personally come to this profession?
To become a sign language interpreter, you have to complete a degree course or a state examination. At the moment, eight universities in Germany offer a corresponding course of study. I myself came to the profession because my parents are deaf, and I therefore grew up with German sign language. However, you don't have to have any or only basic knowledge of German Sign Language for the degree programmes, which you can also acquire in language courses.
How do you prepare for an event?
In the run-up to an event, I first discuss all the relevant framework conditions such as content, technical equipment, lighting etc. with the client. With the help of the preparatory material provided, I then familiarize myself with the content and, if necessary, research further information or look up technical terms or signs. The exchange and consultation with your interpreter colleagues are also very important. At events lasting an hour or more, you work in teams of two or more, taking turns and supporting each other. Interpreting is particularly strenuous because you are constantly working under the highest level of concentration.
What are the biggest challenges for you? And is there anything you can do as a speaker to make the interpreters' work easier?
One of the biggest challenges of our profession, but at the same time what makes it so appealing and varied, is that you have to deal with different settings and people every day. We not only mediate between two languages, but also between two cultures. One problem here is that there is still too much ignorance and uncertainty in our society about people with hearing disabilities. It is therefore all the more gratifying that sign language is present at more and more events such as Frankfurter Buchmesse, thus contributing to inclusion.
The most important thing you can do as a speaker to make our job easier is to provide us with all the relevant materials, such as texts, videos or presentation slides that will be used during the talk, with sufficient advance notice before the event. At the Buchmesse, for example, it is especially important for us to receive the passages to be read so that we can prepare adequately. At the event itself, the speakers don't have to pay attention to anything special, they should speak at a reasonable pace and clearly and concisely in the interest of all the audience anyway.
And what do you like most about your work?
What I like most about my job is that we contribute to the equal participation of people with hearing disabilities through our work and that we get to experience something new every day. The profession is also so versatile and varied, as you get to immerse yourself in the most diverse areas of society, which you would otherwise often not get to know.
Thank you for the interview!
All events where interpretation into German Sign Language is offered:
Accessibility | Frankfurter Buchmesse
Interview by Lorina Bischoff, Frankfurter Buchmesse