Accessibility at Frankfurter Buchmesse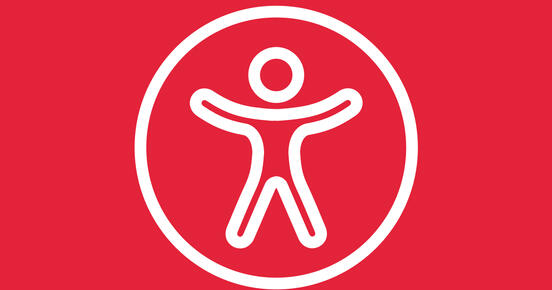 We want the Book Fair to be an unforgettable experience for everyone. Here you will find an overview with information for people with disabilities.
In addition, we would like to draw your attention to some events and offers around the topic of accessibility.
For more information on Frankfurter Buchmesse GmbH's commitment to reducing barriers, please see our Accessibility Statement.
Accessibility information
Tickets
People with a degree of disability of at least 50 can purchase discounted tickets. Tickets & Ticket Purchase Information. 
Persons in wheelchairs or disabled persons who require an accompanying person (feature "B" on the German disabled person's pass) will be admitted free of charge for themselves and their companion on presentation of their disabled person's pass.
Assistance with orientation
Visitors who - for example due to a visual impairment - have difficulties with orientation or need other assistance, will be accompanied personally around the grounds for up to two hours. If you need assistance, please send an e-mail to the service center in advance.
If you need assistance at short notice, please contact one of the information stands on site. Depending on availability, we can also provide spontaneous assistance.
Touch model of the fairground
In the foyer of Hall 4.1, you can also feel the local conditions. At a 3D tactile model of the eastern exhibition grounds, blind people can also get an impression of the shape of the buildings where the Frankfurt Book Fair takes place.
Induction neckloops for people with hearing aids
During events at Frankfurt Pavilion, Frankfurt International Stage and at the International Translation Centre, people with hearing aids or cochlear implants can lend portable induction loops that are connected to the receivers of the interpretation system. More information on induction neckloops.
Events with translation into German Sign Language
At selected weekend events, German Sign Language (DGS) interpreters will translate live on site.
Disability-friendly toilets
Toilets for the disabled are located in all halls. The required "European WC key" is available from the respective hall manager or can be purchased at the Business Center in the Torhaus for 25 euros.
Information and navigation in the app
The hall plans in our app show the locations of the elevators, WCs and public seating areas. When navigating from one exhibit booth to another, activate the barrier-free alternative if you want to use elevators instead of escalators. Information about the app you can find here.
Rental of wheelchairs and electric scooters
Rental of wheelchairs and electric scooters (by the day, 50 euros deposit):
First-aid station Hall 4.0 South/West, entrance Operation and Security Center (OSC).
Telephone reservation required in advance: +49 69 7575-6500.
Access and parking
Parking spaces will be reserved for exhibitors with limited mobility in the immediate vicinity of the hall entrances (on request via the information hotline for people with disabilities, see below). Visitors with limited mobility who have a parking permit for people with disabilities or a severely disabled parking permit with the symbol "aG" can enter via Gate North and will be assigned a parking space by the staff there. Taxis that transport people with walking disabilities and the corresponding feature on their severely disabled pass may enter the exhibition grounds.
Messe Frankfurt service plan
Elevators, handicapped accessible toilets, baby changing room: On the Messe Frankfurt service map you will find important information for your barrier-free visit at the Frankfurt exhibition grounds.
Further information and Messe Frankfurt hotline
Further information at Messe Frankfurt, at all information stands or via the Messe Frankfurt Venue GmbH information hotline for people with disabilities. Phone: +49 69 7575-6999 E-mail: barrier-free@messefrankfurt.com
Events on the topic of accessibility
Hier finden Sie alle Veranstaltungen der Frankfurter Buchmesse zum Thema Barrierefreiheit. Weitere entsprechende Veranstaltungen können Sie unserem Veranstaltungskalender entnehmen.
Feel and listen in the "Blindness Experience Mobile"
From Friday to Sunday, the "Blindness Experience Mobile" at the Agora offers a special experience and education on the topic of visual impairment and blindness. Visitors receive a mobility cane and a pair of glasses that simulate a visual impairment corresponding to an advanced cataract disease. With these, you complete a 12-meter-long "experience walk", which is equipped with everyday obstacles and objects to feel and listen to. Afterwards, the visitors are welcomed, questioned about their impressions and provided with information on the topic of visual impairment and blindness.
The "Blindness Experience Mobile" is a project of the LIONS Clubs together with the Christoffel Blind Mission (CBM).
Events with simultaneous translation into German Sign Language (DGS)
Latest #fbm23 news: interview with a sign language interpreter
If you have any further questions, please ask.
Give us a call or drop us a line. We will be happy to help you.
Send Message