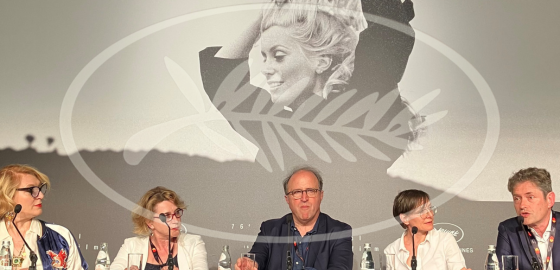 How does a book become a film? The event Shoot the Book! is dedicated to this not-so-trivial question of adaptation. Launched in 2014 by SCELF (Société civile des éditeurs de langue française), Shoot the Book! began as a pure pitch format at the Cannes International Film Festival.
Ten years later, the initiators at SCELF can look back on a proud history of development of their idea: the format has developed into a differentiated, multi-day event in Cannes, which now also includes an adaptation masterclass as well as the networking event "Shoot the Book! Rendez-Vous", at which rights holders talk to producers.
Frankfurter Buchmesse has supported Shoot the Book! as a close partner for years. On the occasion of the 10th anniversary, FBM spokesperson Torsten Casimir and FBM Book to Film representative Niki Théron conveyed congratulations from Frankfurt to those gathered in Cannes.
This year, the 40 or so participating publishers and agencies, of which just under half were not from France, included: Ullstein (Germany), Diogenes (Switzerland), Kein & Aber (Switzerland), La Joie de Lire (Switzerland), Literarische Agentur Michael Gaeb (Germany), Grayhawk Agency (Taiwan), Grupo Planeta (Spain) and Sulakauri Publishing (Georgia).
For the anniversary at the 76th Cannes International Film Festival, an independent jury had selected ten book titles of different genres and original languages and invited them to pitch. Among them was the Berlin literary agent Elisabeth Ruge. This year she represented Angela Steideles' successful novel "Aufklärung" (Insel Verlag). In addition to promoting the world of Johann Sebastian Bach in the Golden Leipzig of the 18th century, which Steidele narrates so stirringly, Ruge also brought along some news that electrified the film world.
The news, namely that the internationally renowned actress and director Maria Schrader ("Ich bin dein Mensch") - and she then quoted a script carefully coordinated with the film artist - "is seriously contemplating this amazing novel, potentially a big international production that interests her as director and possibly co-developer".
This is a clever combination of pitch and news - and you can be sure of a well-functioning informal information flow in the Palais of Cannes. Schrader & Steidele: the next perfect match in the field of literary adaptation? On va voir.
More about Cannes Marché du Film
List of 40 participating publishers and agencies