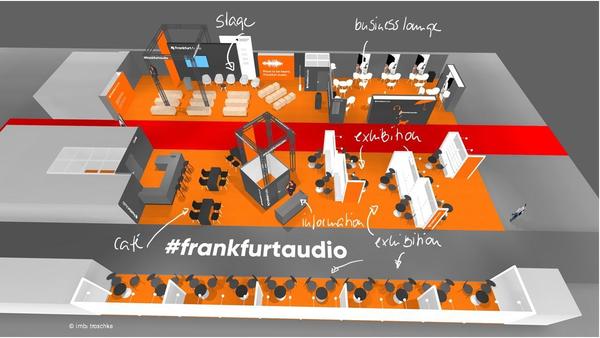 New audio area in Hall 3.1 / Spotify's Michael Krause to be keynote speaker at Frankfurt Audio Summit
Frankfurt, 12 June 2019 – The world of audiobooks, podcasts and smart speakers will be represented at this year's Frankfurter Buchmesse (16-20 October 2019) with its own, newly created thematic area and programme: Frankfurt Audio. Frankfurt Audio comprises a new exhibition space located in Hall 3.1, which will include a new stage dedicated to audio-related topics – the Frankfurt Audio Stage. The Frankfurt Audio Summit, a half-day conference on Thursday, 17 October, rounds off the fair's professionals programme focussed on audio-related topics.

"Audio is one of the media industry's fastest growing segments internationally, and not only in publishing. With Frankfurt Audio, we want to create a venue and programme at Frankfurter Buchmesse for all topics related to audio content, production and dissemination," says Matthäus Cygan, Director Business Development Trade International at Frankfurter Buchmesse, who initiated and heads the new area. "Audio is both internationally relevant and diverse: from classic audiobooks and podcasts to voice assistants and streaming platforms – there are currently new developments in all these segments. Interesting new formats are emerging and new technologies and business models are being developed. We want to use Frankfurt Audio to address these issues, while also serving as a catalyst for discussion and providing space for an exchange among industry players. At the book fair weekend, the new area will become a meeting point for all audiobook and podcast fans."


The new area: Frankfurt Audio as an international marketplace for audio content

Located in Hall 3.1, the Frankfurt Audio area will extend over more than 600sqm, hosting German-language and international exhibitors who will present their products and the latest trends from the world of audio. The new venue will feature a collective stand by German-language audiobook publishers as well as international players, such as Beat Technology (Norway), Penguin Random House Audio (USA), Swann Studio (Denmark) and AkooBooks Audio (Ghana), and service providers. As partners of Frankfurt Audio Zebralution, Storytel and Bookwire will enrich the new area not only as exhibitors, but also by contributing to the Frankfurt Audio programme. The area's Business Lounge can be used to meet with contacts in a quieter atmosphere.

"One thing that was important for us when designing the new area was providing opportunities for exchange and networking – this is why, in addition to the exhibition space and stage area, there is also the Audio Business Lounge and a café," Cygan says.


Listen up: the new Frankfurt Audio Stage

The new Frankfurt Audio Stage in Hall 3.1 will offer all Frankfurter Buchmesse exhibitors the opportunity to present their products and services. On the fair's trade visitor days (16-18 October 2019), the programme will be complemented by curated events and discussions with industry specialists. At the book fair weekend (19-20 October 2019), the stage will host crowd-pullers from the world of audio, as well-known audiobook narrators and podcasters meet with their fans.

For more information on the Frankfurt Audio Stage and to book stage time, please visit:
https://www.buchmesse.de/en/market/media/stages
If you have any questions, please do not hesitate to contact Stefanie von Beöczy (beoeczy@buchmesse.de).


The Frankfurt Audio Summit: Michael Krause, Managing Director Central Europe at Spotify, will be keynote speaker

Who listens to what? How are new technologies driving the consumption of audio content? How can audio content be monetised through streaming and how can real-time data be used to support content and marketing strategies? At the Frankfurt Audio Summit, a half-day conference on 17 October 2019 (2-5 pm), high-profile speakers will share their expertise.

Michael Krause, Managing Director Central Europe at Spotify, will open the programme as keynote speaker. Since October 2017, Krause has been responsible for the firm's Central European markets and for its business in the German-speaking world, where he focuses on the areas of content and local partnerships. Previously, as Vice President for Central and Eastern Europe and CEO EMEA at French music-streaming service Deezer, he was responsible for more than 100 markets.

How can audiobook publishers use big data to adjust their marketing, content and sales strategies? Answers to that question will be presented at the Frankfurt Audio Summit by Kurt Thielen, CEO of Zebralution. What does the exponential growth of voice assistants and smart speakers mean for the future of storytelling? Bradley Metrock, CEO Score Publishing, will look at voice opportunities for audiobook publishers and how to put audio at the centre of new products and new business models. In addition, participants will gain insight into select markets, such as Africa's audiobook market, as discussed by Ama Dadson, CEO of AkooBooks. Statistics from the US audiobook market, presented by Michele Cobb, Executive Director of the Audio Publishers Association (APA), lead off as a lively discussion about global developments in the audio sector. A roundtable discussion with international players will complete the programme.

Tickets to the conference are now available and can be purchased at an early-bird discount of 30% until 2 September 2019. For more information about the Frankfurt Audio Summit, please visit: www.buchmesse.de/audiosummit


Everything you need to know about Frankfurt Audio: www.buchmesse.de/audio


A floorplan of the Frankfurt Audio area and press photos of Michael Krause, Spotify, and Matthäus Cygan, Frankfurter Buchmesse, can be downloaded here:
https://fbm.cloud.booklan.de/index.php/s/QZxXF7o9v5HkQ5j
Please note the copyright information if you use these materials.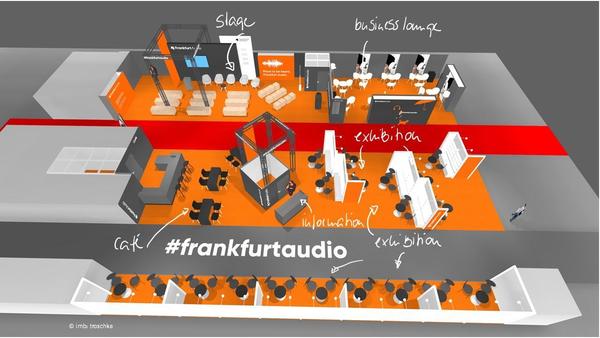 About Frankfurter Buchmesse
Frankfurter Buchmesse is the international publishing industry's biggest trade fair – with over 7,500 exhibitors from 109 countries, around 285,000 visitors, over 4,000 events and some 10,000 accredited journalists and bloggers in attendance. It is the most important international marketplace for content – from novels and children's books to academic databases and stories for films, games and virtual reality experiences. Publishing professionals from around the world meet here with partners from the technology sector and from related creative and cultural industries, sparking new partnerships and business models. A strong conference programme ensures that Frankfurter Buchmesse is a major source of inspiration for content experts from around the world. Since 1976, the book fair has featured an annual Guest of Honour country, which showcases its book market, literature and culture to attendees in a variety of ways. Frankfurter Buchmesse organises the participation of German publishers at around 20 international book fairs and hosts trade events throughout the year in major international markets. Frankfurter Buchmesse is a subsidiary of the Börsenverein des Deutschen Buchhandels (German Publishers & Booksellers Association). https://www.buchmesse.de/en

Contact for the media:
Press & Corporate Communication, Frankfurter Buchmesse
Katja Böhne, Vice President Marketing & Communications, Phone: +49 (0) 69 2102-138, press@buchmesse.de
Kathrin Grün, Head of Communications, Phone: +49 (0) 69 2102-170, gruen@buchmesse.de
Ines Bachor, PR Manager, Phone: +49 (0) 69 2102-189, bachor@buchmesse.de