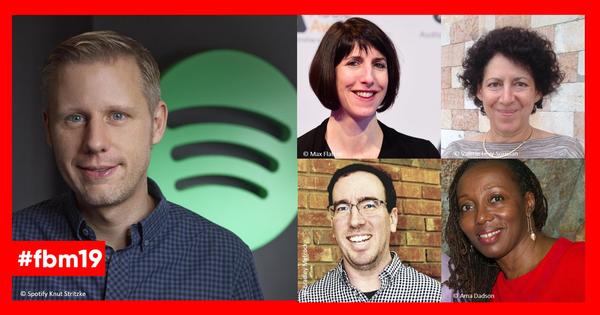 Featuring: Michael Krause from Spotify, Stacy Creamer from Audible, Helena Gustafsson from Storytel, Axel Reichmann from Google / Podcasting contest at the fair
Frankfurt, 7 October 2019 – Audio is one of the media industry's fastest growing segments internationally. At this year's Frankfurter Buchmesse (16-20 October 2019), the spotlight will be on the world of audiobooks, podcasts and audio trends: Frankfurt Audio is a new thematic area with a new exhibition space in Hall 3.1, its own Frankfurt Audio Stage, and a half-day conference on the Thursday of the fair, the Frankfurt Audio Summit.

"Audio content has always been part of Frankfurter Buchmesse. However, with Frankfurt Audio we now present audiobook and podcast trends in one centrally located and thematically branded area at the fair to better highlight how that part of the industry is changing and growing," says Matthäus Cygan, Director Business Development Trade International at Frankfurter Buchmesse. "The Frankfurt Audio area, which extends over more than 600 square metres in Hall 3.1, will host German-language audiobook publishers alongside international streaming platforms. For professionals from the publishing and audio sectors we offer a first-class programme with our Frankfurt Audio Summit, featuring talks on stage from experts in the field. Events featuring authors and podcasters, especially at the weekend, are highlights for the fair's public visitors."

Frankfurt Audio Stage: the latest audio-publishing trends

On the trade-visitor days (16-18 October 2019), international industry players will come together at Frankfurt Audio. At the Frankfurt Audio Stage (Hall 3.1 L 59) discussions with international audio-publishing experts will provide trade visitors with valuable information. The professional programme will kick off on the first day of the fair with a panel discussion on audiobook production featuring Penguin Random House Audio's Amanda D'Acierno, Michele Cobb from the Audio Publishers Association and Swann Studio's Martin Møller. On the Friday of the fair, Axel Reichmann from Google, Franziska Luh from X-O Projects, Bradley Metrock from Score Publishing and John Ruhrmann from Bookwire will discuss the possibilities voice assistants and smartspeakers offer for the publishing industry. The entire stage programme can be found here: www.buchmesse.de/audio

Frankfurt Audio Summit: What does the future of audio look like?

Michael Krause, Managing Director Central Europe at Spotify, will open the Frankfurt Audio Summit conference programme (17 October, 2.00-5.00 p.m.) with a keynote speech entitled "The future of audio is limitless". Further trends and developments in international audio markets will be presented and discussed by Stacy Creamer, VP Content Acquisitions and Development at Audible (USA), Ama Dadson, CEO of Akoo Books (Ghana), Helena Gustafsson, Head of Global Publishing at Storytel (Sweden), Valérie Lévy-Soussan, Founder and CEO of Audiolib (France), Declan Moore, Head of International at Wondery (USA), and Kurt Thielen, Managing Director and Co-Owner of Zebralution (Germany), amongst others. Programme and tickets: www.buchmesse.de/audiosummit

Podcasting contest at the fair

The Frankfurt Audio area in Hall 3.1 also includes a podcast studio by partner Audio Alliance. Under the motto "create your own podcast" book fair visitors can experience what it feels like to stand behind the microphone and create a short podcast episode themselves. The best improvised podcast of Frankfurter Buchmesse will be selected and the winner will be rewarded by Audio Alliance with his or her own original season. An editor and a producer will be at the studio on site to help and answer questions.

Highlights on the weekend: authors and podcasters on stage

The weekend of the book fair, exciting voices are expected on stage. "With the launch of Frankfurt Audio this year we are starting out with numerous German-language events, including speakers from the areas of literature, podcasting, music and journalism", says Matthäus Cygan. "Among them will be authors Melanie Raabe and Rafik Schami, Giuseppe di Grazia and Julian Reichelt from two of Germany's most successful magazines, Bild and stern, the lead singer of the Berlin-based electro-pop band MIA and techno DJ Talla2xlc. Next year, we will continue to expand the events to include a larger collection of international voices – podcasters, authors and narrators – as Frankfurt Audio evolves", says Cygan.

Premium partners of Frankfurt Audio are Zebralution and Audible Deutschland. Storytel, Bookwire, Audio Alliance and Bitkom are partners of Frankfurt Audio, while Hessischer Rundfunk is its media partner.

More information about Frankfurt Audio: www.buchmesse.de/audio

A floorplan of the Frankfurt Audio area and press photos of Michael Krause, Spotify, and Matthäus Cygan, Frankfurter Buchmesse, can be downloaded here: https://fbm.cloud.booklan.de/index.php/s/QZxXF7o9v5HkQ5j
Please note the copyright information if you use these materials.
About Frankfurter Buchmesse
Frankfurter Buchmesse is the international publishing industry's biggest trade fair – with over 7,500 exhibitors from 109 countries, around 285,000 visitors, over 4,000 events and some 10,000 accredited journalists and bloggers in attendance. It is the most important international marketplace for content – from novels and children's books to academic databases and stories for films, games and virtual reality experiences. Publishing professionals from around the world meet here with partners from the technology sector and from related creative and cultural industries, sparking new partnerships and business models. A strong conference programme ensures that Frankfurter Buchmesse is a major source of inspiration for content experts from around the world. Since 1976, the book fair has featured an annual Guest of Honour country, which showcases its book market, literature and culture to attendees in a variety of ways. Frankfurter Buchmesse organises the participation of German publishers at around 20 international book fairs and hosts trade events throughout the year in major international markets. Frankfurter Buchmesse is a subsidiary of the Börsenverein des Deutschen Buchhandels (German Publishers & Booksellers Association). https://www.buchmesse.de/en

About Audible
Audible Inc., an Amazon.com Inc. subsidiary (NASDAQ:AMZN), is the leading provider of premium digital spoken audio content, offering customers a new way to enhance and enrich their lives every day. Audible was created to unleash the emotive music in language and the habituating power and utility of verbal expression. Audible content includes more than 465,000 audio programs from leading audiobook publishers, broadcasters, entertainers, magazine and newspaper publishers, and business information providers.

Contact for the media:
Press & Corporate Communication, Frankfurter Buchmesse
Katja Böhne, Vice President Marketing & Communications, Phone: +49 (0) 69 2102-138, press@buchmesse.de
Kathrin Grün, Head of Communications, Phone: +49 (0) 69 2102-170, gruen@buchmesse.de
Ines Bachor, PR Manager, Phone: +49 (0) 69 2102-189, bachor@buchmesse.de