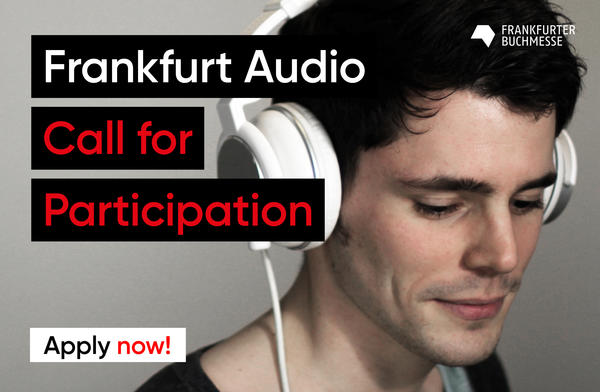 Audio experts can apply for a free stage slot at Frankfurter Buchmesse / Application deadline: 31 May 2020
In times like these, streaming services are experiencing a boom, audiobooks serve as a good distraction during the time spent at home, and the international podcast landscape is further expanding. In 2019, Frankfurt Audio, Frankfurter Buchmesse's international marketplace for audio content, celebrated its successful premiere. This year, Frankfurter Buchmesse (14-18 October 2020) will once again be putting audio content, services and products in the spotlight at Frankfurt Audio.
To broaden the conversation to include innovative new aspects of the audio industry, the book fair is giving away three free 30-minute stage slots on the Frankfurt Audio Stage on the trade visitor days of the fair (14-16 October 2020). Submissions are open for suggestions for interesting and international presentations, panel discussions or similar formats with exciting speakers aimed specifically at the book fair's trade visitors. The event can be held in English or German and will be recorded and published as an audio file.
Frankfurter Buchmesse is looking for submissions by experts from the international audio sector, including audiobook producers and narrators, service providers, streaming services, research institutes, podcasters, technology providers and publishers. The application deadline is 31 May 2020.
To apply for a free stage slot please visit www.buchmesse.de/audiocall
With international exhibitors and partners, a stage programme with authors, podcasters and audio experts and more than 250 participants at the Frankfurt Audio Summit, Frankfurt Audio 2019 was a big success. In 2020, international players from the audio industry, including Audible, Bookwire, Storytel and Zebralution, will be part of Frankfurt Audio again.
Further information about Frankfurt Audio is available here: www.buchmesse.de/audio
About Frankfurter Buchmesse
Frankfurter Buchmesse is the international publishing industry's biggest trade fair – with over 7,450 exhibitors from 104 countries, more than 300,000 visitors, over 4,000 events and some 10,000 accredited journalists and bloggers in attendance. It is the most important international marketplace for content – from novels and children's books to academic databases and stories for films, games and virtual reality experiences. Publishing professionals from around the world meet here with partners from the technology sector and from related creative and cultural industries, sparking new partnerships and business models. A strong conference programme ensures that Frankfurter Buchmesse is a major source of inspiration for content experts from around the world. Since 1976, the book fair has featured an annual Guest of Honour country, which showcases its book market, literature and culture to attendees in a variety of ways. Frankfurter Buchmesse organises the participation of German publishers at around 20 international book fairs and hosts trade events throughout the year in major international markets. Frankfurter Buchmesse is a subsidiary of the Börsenverein des Deutschen Buchhandels (German Publishers & Booksellers Association). https://www.buchmesse.de/en
Contact for the media:
Press & Corporate Communication, Frankfurter Buchmesse
Katja Böhne, Vice President Marketing & Communications, Phone: +49 (0) 69 2102-138, press@buchmesse.de
Kathrin Grün, Head of Communications, Phone: +49 (0) 69 2102-170, gruen@buchmesse.de
Ines Bachor, PR Manager, Phone: +49 (0) 69 2102-189, bachor@buchmesse.d
> Find all press releases and photos on our website. https://www.buchmesse.de/en/press/