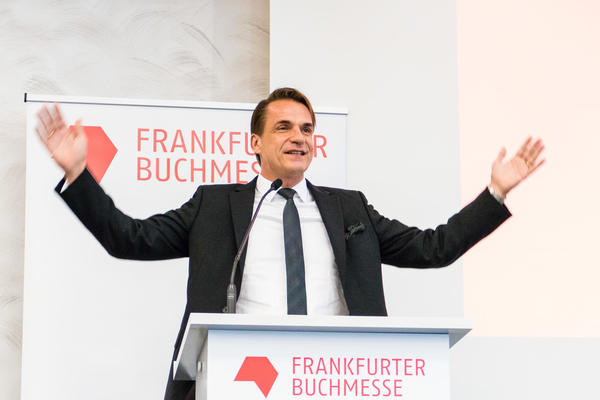 © Frankfurter Buchmesse / Johannes Minkus
Penguin Random House global CEO Markus Dohle kicks off the Frankfurt Studio: Inside Publishing programme / Interviews and panels highlighting advances in technology and insight into publishing in the Spain and Arabic markets / Announcements of key awards
This year, Frankfurter Buchmesse has launched Frankfurt Studio: Inside Publishing, which will feature diverse programming Wednesday through Friday, live and in-person at the fair. Attendees at the Messe can watch on a big LED screen in the Agora, the open space between the exhibition halls, while attendees at home can watch events on the Frankfurter Buchmesse homepage at buchmesse.de

Frankfurt Studio event highlights

Wednesday, 20 October 2021, 10.00 am CEST 
Markus Dohle in Conversation with Porter Anderson: Book Publishing on the World Stage Today
In speaking with Publishing Perspectives' editor-in-chief Porter Anderson, in this inaugural Frankfurt Studio interview originating live and in-person on the fairgrounds, Penguin Random House global CEO Markus Dohle is expected to touch on the singular nature of book publishing's resilience in a time of extraordinary challenges at international scale. This conversation will explore Dohle's nuanced perspective on the place, purpose, and potential of literature and his views on the core value of print, as well as the importance of marketplace investment.
More demands lie ahead, of course, not least the fast-mounting pressures on the global supply chain. Dohle and Anderson can be expected to highlight both where short-term caution lights are blinking and the big-picture promise that lies within publishing's reach.

Wednesday, 20 October 2021, 11.00 am CEST
The impact of COVID on the global publishing industry
Covid-19 has had a huge impact on the global economy. At this digital panel, co-organised by World Intellectual Property Organization (WIPO) and Frankfurter Buchmesse, the chief economist of WIPO, Carsten Fink, will launch the WIPO Publishing Industry Report. Together with President of International Publishers Association (IPA) Bodour Al Qasimi, Managing Director of Nielsen Books André Breedt, and Chair of the International Authors Forum John Degan, the panel will take a closer look at the impact of Covid-19 on the publishing industries. Moderated by Benedicte Page of The Bookseller.

Wednesday, 20 October 2021, 3.00 pm CEST
Awards Ceremony – WIPO's Accessible Books Consortium International Excellence Award for Accessible Publishing and the seminar
"Accessibility Now - Will you be ready for the European Accessibility Act in 2025?"
In less than four years, the European Accessibility Act will require any publisher doing business in Europe to make their e-books available in accessible formats. This practical session, co-organised by the Federation of European Publishers, Frankfurter Buchmesse, the International Publishers Association and the World Intellectual Property Organization, will focus on two simple questions: what do publishers need to do and how can they do it? The session will include the award ceremony for WIPO's ABC International Excellence Award for Accessible Publishing – celebrating inspirational publishers and initiatives helping make books accessible for all.

Wednesday, 20 October 2021,6.00 pm CEST
The 2021 Cundill History Prize Finalists Announcement
Historian, author, broadcaster, academic and former Leader of the Liberal Party of Canada Michael Ignatieff is Chair of the Jury for the 2021 Cundill History Prize. For this special event – revealing the three finalists for the leading international history prize – he is joined by one of the world's most distinguished historians, Margaret MacMillan, Professor of History at the University of Toronto and Emeritus Professor of International History at Oxford University. Celebrated broadcaster and History Hit host Dan Snow will discuss with the pair how relevant the best new history writing is for some of today's most challenging issues. Ignatieff will then announce the three 2021 finalists as part of the event, which will be streamed simultaneously by Frankfurter Buchmesse and Fane Productions. In partnership with Frankfurter Buchmesse, History Hit, Literary Review of Canada, and Fane Productions.

Thursday, 21 October 2021, 2.00 pm CEST
The Future of Independent Publishing, hosted by Porter Anderson
Approximately one dozen speakers from different countries will come together at this event to discuss current issues affecting independent publishers. During a series of short talks, the participants will address the local challenges their companies face. Curated by Porter Anderson, editor-in-chief of Publishing Perspectives, together with independent publishers, the programme points include topics such as "A World Beyond Zoom: The Future of International Rights Meetings and Rights Trading", "Who Are We and Who Do We Want to Be? The Future of Diversity in Publishing" and "Between Gold Rush and Apocalypse: The Future of Book Markets After (or with) Covid".

Thursday, 21 October 2021, 4.00 pm CEST
New Formats: Digital Books and Audiobooks
Paper or e-book format? How do the two media coexist? The pandemic has boosted sales of e-books and the consumption of audiobooks. Carmen Ospina, Director of Marketing, Communication and Business Development, Penguin Random House Grupo Editorial; Javier Celaya, CEO and Founder of Dosdoce.com; Santos Palazzi, Director of the Mass Market and Digital Division, Editorial Planeta; and Arantxa Mellado, Founder and director, Data Libri analyze the latest trends and what the future holds in this field.

Friday, 21 October 2021,12.00 pm CEST
Publishing Arabic books – opportunities and challenges
Arabic literature is diverse and has a long history. There are over 400 million Arabic speakers, yet bringing Arabic literature to the Western market is a challenge. Why is that? Conversely, which titles and themes particularly spark readers' interest and sell well? How can Arabic literature be disseminated and which authors are currently worth discovering? And vice versa: which books by non-Arab authors could be introduced to the Arab market? What are and aren't Arab readers interested in today? Lena Bopp discusses these and other issues with Rasha al Ameer (winner of the Sheikh Zayed Book Award for 2021), Piero Salabè and Yasmina Jraissati.

You can find the complete programme in the Frankfurt Book Fair App and in the Calendar of Events:  https://www.buchmesse.de/en/visit/calendar-events