Back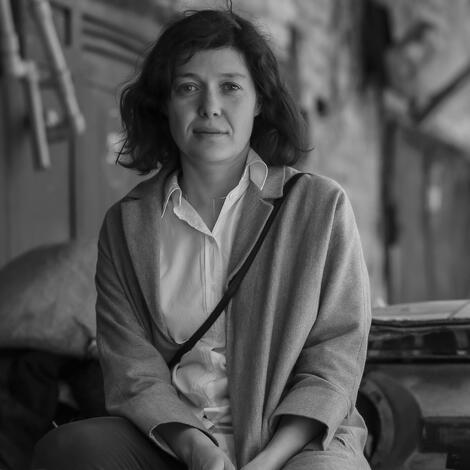 Yevgenia Belorusets
Author and artist
Yevgenia Belorusets, author and artist, lives and works in Kiev and Berlin. She is the co-founder of "Prostory" (2017), a newspaper for literature and art, and a member of the curatorial group "Hudrada" since 2009.
She works with photography and interlingual writing at the intersection of art, literature and social activism. She has participated in a number of Ukrainian and international exhibitions and readings in the context of social critique and socially engaged art (including in the Ukrainian Pavilion at the Venice Biennale in 2015 and 2022 and in Kiev Biennale 2015 and 2017, where she co-curated the exhibition.
Since 2014, she has been involved in a number of human rights initiatives in Eastern Ukraine, working with the Eastern Human Rights Group, among others. In 2019, her book "Happy Cases" came out, documenting the experiences of women who lived in the midst of war. The book was listed with the International Literary Award 2020. Since the beginning of the Russian-Ukrainian war, Yevgenia Belorusets kept a diary for Spiegel online, reporting from the embattled capital. Her book "Beginning of the War. Tagebücher aus Kiew" collects these texts and will be published by Matthes & Seitz Berlin in October 2022.
Back