Our commitment to accessibility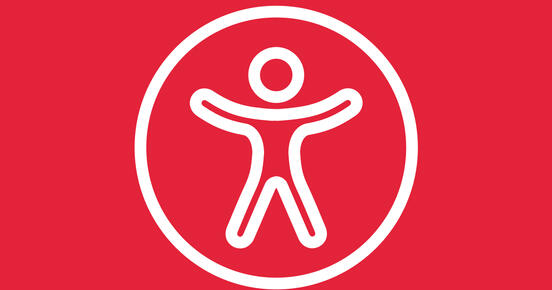 Frankurter Buchmesse's commitment to accessibility
Reducing barriers is one of our top priorities. We have been working for years now to improve accessibility at our event. Our goal is to make Frankfurter Buchmesse accessible for everyone, all members of the industry as well as all fans of literature and culture. Through the continuous removal of barriers, we want to improve the quality of the fair experience for everyone and also to make our digital services easier to use.
Within our company, we have founded an inter-departmental focus group for accessibility. The group is working on three levels:
Ongoing removal of barriers online and offline, while expanding our service offer for persons with disabilities

Within the publishing industry, promoting exchange on the topic of accessibility at a professional level

Organising public events to raise awareness for the topic of accessibility
Improving accessibility at the exhibition grounds
Our team continues to work on making the fair experience accessible for as many participants as possible. The project "Frankfurter Buchmesse for Everyone" serves as the cornerstone. In cooperation with the Technical University Darmstadt, we surveyed and analysed information collected from fair visitors between 2017 and 2019. These findings led to various measures being developed and implemented, including:
Optimising signage at the exhibition site

Widening the corridors

Use of the carpet colour red for better orientation and distribution of visitors in the halls for vertical and circumferential aisles as well as in the entrance areas, grey for numbered main aisles.

Installing additional seating

Sign language interpreting at various fair events

Offering guide services for persons with a vision impairment

Tours through the Guest of Honour Pavilion for persons with a vision impairment

Compiling a set of guidelines for running accessible events
Further development of the Frankfurter Buchmesse app

 
App users can choose an accessible navigation guide through the exhibition site
Website buchmesse.de 
We are currently optimising our website to meet WCAG conformity level AA by 2024. In order to remove current barriers, we subjected our website to a comprehensive technical, design and editorial analysis based on the requirements of the Web Content Accessibility Guidelines (WCAG) 2.1 - AA in December 2022 and June 2023. We have continuously been implementing the resulting adaptations. As soon as these implementations are complete, we will update our declaration of accessibility here.
Support for persons with disabilities
If you should have difficulties taking part in Frankfurter Buchmesse or using our digital services, please contact us. We are also happy to receive suggestions on how to improve accessibility by e-mail or telephone.
Latest #fbm23 news: interview with a sign language interpreter
If you have any further questions, please ask.
Give us a call or drop us a line. We will be happy to help you.
Send Message
Latest update: September 2023