Our exhibition stands.
From booking of space for your Custom-built Stand to five customisable System Stand models; the choice is yours.
Book System Stand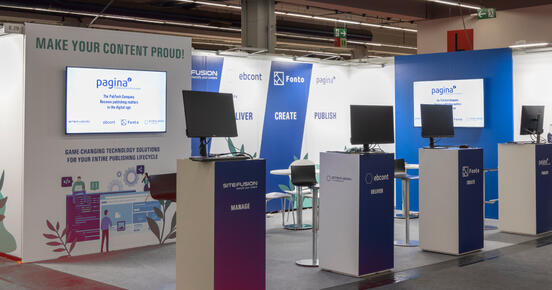 Regardless of which stand – this is what each version offers you
Customer proximity
A stand at Frankfurter Buchmesse brings you into personal contact with your customers and target groups.
Networking
Make your stand a meeting place for professional and private meetings, while also being open to chance encounters.
Product presentation
Display your brand and products in their best light: with a presentation at the industry's largest annual event.
Which of our two fair stand options is right for you?
Our stand options – Let us help you decide
| System Stand | Custom-built Stand |
| --- | --- |
| You pick the stand type from our range and decide on size. | You book space-only for own stand design. |
| The basic equipment included provides a readymade, functional stand. | You commission a stand builder who designs and builds your stand. |
| You can order additional features from "Furniture and stand equipment" using the registration form. | Stand size and equipment according to your ideas and budget. Stand construction plans are reviewed and approved by us. |
| A simple System Stand is thus transformed into an attractive and inviting exhibition space. | The Custom-built Stand provides you with a brand-specific and unique fair presence. |
| Details and registration here. | Details and registration here. |
Still can't decide? Here you will find the best of both worlds